The road to WorldSkills Abu Dhabi 2017 is well underway with the UK's best taking part in training and development programmes in their chosen disciplines. Reporter Billy Camden went along to a session last week to see how the competition has kicked off.
WorldSkills fever was hot in the dusty air at Chichester College's Pulborough Campus last week as 14 carpentry, joinery and cabinet making champion hopefuls completed a training week.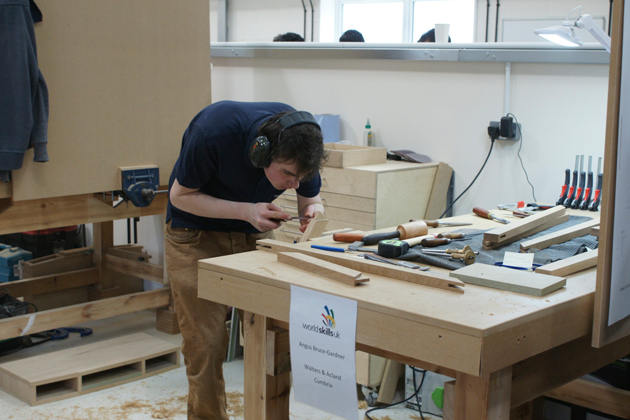 Competitors in each of the three disciplines got through to this stage of the process by doing "exceptionally" well at the national finals at the Skills Show.
The students, who travelled from as far as Northern Ireland, arrived in Pulborough on Tuesday night and spent the next three days taking part in training and completing challenging tasks set by each disciplines own expert.
Joinery competitor Connor Wilmot, aged 18, an apprentice from West Suffolk College, said: "This week has been completely different to the national finals. It has been a lot more intense.
"The experts have been awesome, they've been showing us new ways of doing things, things that I never thought of doing before."
Throughout the week, all participants took part in core skills training to improve their quality, and then completed an assessment based task.
Cabinet makers made a small desk to precision, carpenters used their geometric skills to create part of a roof, and joinery competitors made a highly technical window frame.
Carpentry hopeful Shane Everett, 20, an apprentice with R G Carter Building in Norfolk, said he was "surprised" at how much he could learn in the three days he was there.
He added: "This is such a big opportunity and to represent the UK would be brilliant and at the end of the day go for a gold medal, that's what we're after."
All are hoping to secure a place on TeamUK which will eventually send them to compete in WorldSkills Abu Dhabi 2017.
Held every two years, the WorldSkills competition welcomes around 1,000 people, aged 18 to 25, from all over the globe to compete for medals in more than 60 different skills areas.
Chichester College is famous for the success of its cabinet making competitors. The college has entered a representative to compete in the discipline since 2009.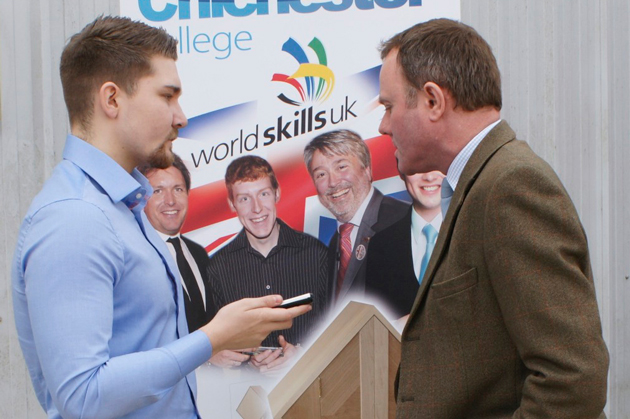 And since the introduction of lecturer Christian Notley, in 2013, the college has produced two gold medallists in the skill area.
Mr Notley was on-hand throughout the development week to offer his winning experience to this year's hopefuls.
He said: "These early stages are critical, you have to set the tone for the whole training and set the standards, which is actually above industry."
On the Friday, the competitors were also joined by Nick Herbert MP for Arundel and South Downs, for his first taste of the competition.
Mr Herbert said he was "incredibly impressed" with the set-up and added: "I think it is terrific to see these British skills in action and to know that we are competing successfully with the world's best and that my constituency is playing a role in that."
The training and development programmes started in February for all fields and run through until the end of March.
Squad UK is then whittled down from five per skill to three in April.
The next stop for a selection of competitors will then be EuroSkills Gothenburg 2016 in December, before continuing training all the way up to WorldSkills Abu Dhabi 2017.
Last year, the UK team took home three gold, four silver, and two bronze medals from WorldSkills in Sao Paulo, Brazil, which gave TeamUK 46 points in total to place it seventh in the overall medals table — up three places on WorldSkills Leipzig two years ago.
Main pic: WorldSkills competitors in carpentry, joinery and cabinet making get stuck in with their training week tasks at Chichester College's Pulborough Campus