Young entrepreneurs who suffer from a range of learning disabilities used their new enterprising skills to make the wedding centrepiece for the bride and groom of their tutor's daughter, writes Billy Camden.
A bride and groom were given a sweet treat for their wedding day from young entrepreneurs who suffer from a range of learning disabilities at Darlington College.
The students, who study a Next Steps course, designed and built a mobile sweet trolley for Jo Wright and Elliott Biddle.
They were commissioned to make the wedding centrepiece by bride Jo's mum Ali, a learning with difficulties co-ordinator at the college.
"Every year within Next Steps we run an enterprise programme to enable our young people to gain the skills needed to run their own small businesses," said Ali.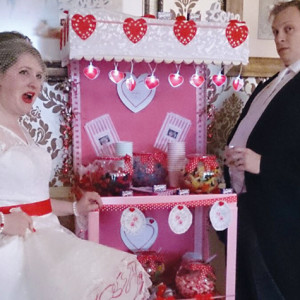 "This year the students, who call themselves Quirky Quafts, decided to create a business designing products to sell to make money for their end of year trip and to donate to various charities.
"I thought it would be a lovely idea to have a sweet trolley at Jo and Elliot's wedding so I asked Quirky Quafts if they could help and I couldn't be happier with what they have done."
With a budget of £150, the team of 10 students divided into groups to research, plan, design, build and stock their first large-scale enterprise.
Project manager Shaun Moore, aged 19, said: "We created a mood board with ideas that we showed to Ali before asking the college's construction department for some spare wood.
"We then got the motor vehicle body shop students to spray an old metal video cabinet pink before attaching the wooden backboard to make it looked like a sweet trolley.
"The team made all of the decorations for the trolley and even created paper sweet bags with a picture of the bride and groom."
After researching all of the bride's favourite sweets the Quirky Quafters then stocked the trolley with bowls of love hearts, assorted jellies, boxes of Smarties, candy false teeth, fizzy cola bottles and dozens of lollipop bouquets.
Student Josh Bridge, 18, said: "The best bit of the project was finding out the prices for the sweets and decorating the trolley with them.
"It was quite hard at times but we learned a lot and even managed to resist eating the sweets — even the coal bottles which are my favourites."
The project took four and a half weeks from start to finish and was ready in time for the wedding on April 1.
The bride and groom were so pleased with the end result that they sent a note to the Quirky Quafts team thanking them for their "spectacular" sweet trolley.
Bride Jo said: "The team worked so hard and the trolley looked amazing. I can't thank them enough."
Assistant project manager Josh Cheney, 17, said: "It felt very good to get a thank you card from Jo and Elliott.
"It was a lot of hard work and I'm very relieved that it was a success."
The trolley is now back at Darlington College and Quirky Quafts are using it to start up their next enterprise scheme selling sweets to students and staff.
Main pic: Next Steps students at Darlington College with their wedding day sweet treat