Paralympic athlete Faye McClelland is being backed all the way to Rio 2016 by her former college, with the current crop of students also reaping the benefits of a sponsorship deal, writes Billy Camden.
Four-time World Paratriathlon Champion and three times European Champion Faye McClelland will have Harrow College partly to thank if she wins gold at this summer's Paralympics Games.
For the former student is being helped on her road to Rio 2016 by being officially sponsored by the college.
Faye, who was born without her left hand, studied a general national vocational qualification in art and design from 1996 to 1998 at Harrow.
Of the sponsorship, she said: "Having the backing of the college is fantastic. As a former student, it means a great deal and adds to my determination in securing a gold medal at Rio."
As a triathlete, Faye will be pushing herself to the limit in three disciplines — swimming, cycling and running.
She will compete for the Great Britain team in the woman's PT4 category for athletes with less severe arm and leg impairments.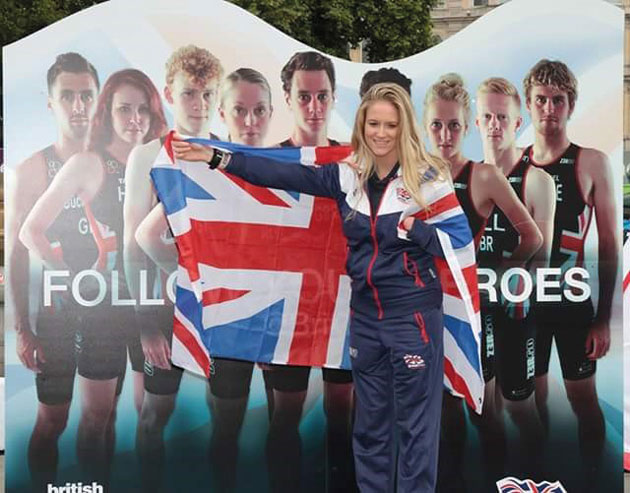 Up to the end of June, she will compete in a series of international qualification races to recruit the points required to secure a place in the Great Britain Paralympic Team.
"The sponsorship helps me out financially, so for things like equipment and travelling to races it is a huge boost," said Faye. "I'm so thankful to the college who are truly helping me on my road to the games."
Principal Pat Carvalho said Harrow College was "proud" to continue its affiliation with Faye and her success.
"Faye's journey has been very special and we're backing her all the way to gold this summer," said Ms Carvalho. "We agreed a certain amount to support her activities towards her training and competitions."
When asked by FE Week how much the sponsorship deal is worth, a spokesperson for the college said it is not their policy to disclose this kind of financial information.
Before the games and as part of the sponsorship, Faye agreed to work with the college in a number of ways to help inspire current students — including talks, motivational blogs and updates on her preparation for Rio.
She will also open the college's new centre for students with learning difficulties later this month.
Ms Carvalho said: "Faye has been absolutely great, she's been really responsive throughout her intense training regime.
"We have been very careful to make sure that we are not putting overburden on her in terms of what she is doing in the lead up to Rio and beyond.
"Between us, we have worked out something that is a benefit for everyone. It's a win win."
And Faye added that she is "excited" to work closely with the students.
During her college days, Faye only took part in kickboxing recreationally to keep fit. It wasn't until later in her career that her passion for athletics really took off.
She got into triathlon when a friend challenged her to do the run section as part of a relay.
She carried on the sport and did her first paratriathlon event in 2009.
Faye said her training is currently going "to plan" and she is confident that she will get to Rio.
Speaking on behalf of the whole college, Ms Carvalho said: "We absolutely think Faye has what it takes to go all the way and win gold, we really do."
The Rio 2016 Paralympics Games will take place from September 7 to 18.