A Nottinghamshire college has been recognised by equality charity Stonewall as a top employer for promoting lesbian, gay, bi and trans diversity amongst its staff. Samantha King reports.
This year, West Nottinghamshire college was voted as the 60th best employer on Stonewall's list of 100 LGBT-friendly organisations, rising 33 places from last year, where it placed 93rd. 
The college, which is based in Mansfield, has climbed the top 100 list rapidly since it first took part in the charity's voluntary audit in 2015 and came 143rd. 
Louise Knott, its vice-principal and chair of its equality and diversity steering group, said: "As a college, equality and diversity is deeply embedded within our culture and ethos, and over the last three years we have really focussed on LGBT+ equality. Our result this year is a clear indication that the hard work has paid dividends. 
Many choose their transition to college to come out
"For many of our students, coming to college at the age of 16 serves as a bit of a watershed, where they feel they can start to be themselves. Many choose their transition to college to come out.
"Therefore providing a safe and welcoming space for them to do this is essential."
Now in its 13th year, Stonewall's Workplace Equality Index celebrates the efforts of employers to create inclusive workplaces, and is compiled through an annual audit of workplace culture.
There is also a confidential staff survey as part of the process, asking employees whether they were comfortable disclosing their sexual orientation at work, if they saw visible LGBT role models in the organisation, felt supported by their managers and were confident in reporting homophobic, biphobic and transphobic bullying.
"We have invested a significant amount of time not only in terms of our support for students, but also in creating an environment where our staff feel comfortable being themselves and are role models to our student body," Knott added.
"We have found that our clear focus on LGBT+ equality has moved our organisational culture on significantly, and in fact has helped with many of our other equality and diversity strands. Our work will continue and we hope to move up the Top 100 ranking even further next year."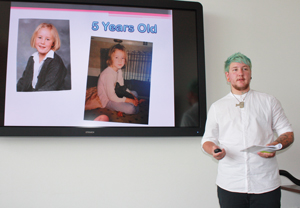 More than 430 employers from across the public, private and third sectors submitted their entries for consideration; the college was one of only two FE institutions that made it onto the list, with Newham college of Further Education in east London placing 72nd.
Duncan Bradshaw, Stonewall's director of membership programmes, said "West Nottinghamshire college and all those who have made this year's Top 100 Employers list have done a fantastic job, and really do put equality and inclusion at the forefront of their work. 
"With continued efforts and hard work, we will continue to work towards a world where all lesbian, gay, bi and trans staff are welcomed and accepted without exception in their workplaces."
Stonewall was founded in 1989 by a group who campaigned against a piece of government legislation – Section 28 – preventing the 'promotion' of homosexuality in schools. It achieved charitable status in 2003 and has since helped in equalising the age of consent and allowing same-sex couples to adopt.
To be considered for Stonewall's Workplace Equality Index, click here.
Main image: (L-R) Louise Knott, Alex Belcher, chair of student LGBT network , and Jane Hawksford, chair of staff LGBT group