Two Gloucestershire students who learned to use a 3D printer during college workshops have utilised the technology to help their blind friend Elliott become more independent. Samantha King reports.
Two college students, Kristian Harrison, 18, and Steve Martin, 23, have come up with a unique way to help their visually impaired friend gain more independence during a series of 3D printing workshops with their IT tutor.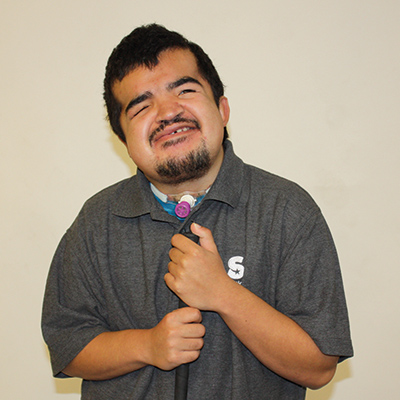 Twenty-year-old Elliott Roberts – who is also a student at National Star specialist college – needs a chaperone wherever he goes due to the severity of his condition. Through the printing workshops, his friends decided they could help him by producing a 3D map of his college residence, enabling him to find his way around unattended.
With Elliott unable to read braille, the map they produced created a brand new, touchable language.
Their IT tutor Simon Barnett, who has been working closely with the trio, said: "The three lads started in my 3D printing workshop group and had never met each other before.
"When Elliott joined our group we discussed how we could get him more involved, and we came up with the idea of creating the 3D map so he could better understand his environment."
To make the map, the students scanned in original floor plans of Elliot's residence, and adapted elements and shapes to symbolise different rooms before showing it to him for feedback.
"We wanted this map to be a size that could be carried around. The students had to think how a corridor might feel to Elliott, or how a bedroom would feel. When there's a new element that needs to be added or adapted it takes quite a lot of thought," said Mr Barnett.
"Each week Elliott will pick up the next map and give feedback. The students then take it away, go back to the drawing board, make the changes and bring it back the next week. His recent feedback was that he doesn't need the map to have walls, as he'll know if he walks into one."
The students had to think how a corridor might feel to Elliott, or how a bedroom would feel
Kristian, who uses a communicator he controls with his eyes and learned to use the printer using software adapted for his condition, said "We made a lot of mistakes at first, but we have fixed them along the way. I'm really excited about the project and how it can help others."
As well as aiding with mobility and independence, the premise of the map could also prove useful in Elliot's sporting life, as he is a keen Boccia player – a precision ball sport similar to bowls.
Barnett said "He doesn't know how hard he's supposed to throw the ball and most of the time it ends up on the other side of the sports hall. We're going to create him a little peg board and show him where he is in relation to the court so he can gauge how to shoot."
Word of Elliot's pioneering map has spread beyond the walls of the college, with the students invited to the Bett show, a leading education technology event, to show off their creation.
The map received international acclaim at the convention, with teachers from a specialist blind school in the Netherlands keen to do some work with the students.
"The feedback was fantastic, and it's nice to think I taught them how to do this" Barnett said. "It's all about expanding Elliot's universe".