The annual East of England Smithfield Festival attracts competitive farmers from across the country, with the College Challenge category perhaps the most competitive of all. The 2016 winners have now been crowned. Samantha King reports.
For months, students from agricultural colleges across the UK have been gearing up for the East of England Smithfield Festival's College Challenge, which took place last week.
Judging students on their knowledge of all aspects of farming, from identifying feed to assessing a quality carcass, the challenge saw over 30 teams from across 15 colleges enter in the hopes of returning home as champions.
They were able to represent the college so well and we're just really proud of them. It just shows that we must be doing something right
After beating off stiff competition, it was a team of four girls from Askham Bryan college in York that brought home the bacon – and £300 in prize money.
Emily Watson, Marian Porter, Pippa Jackson and Lauren Rucklidge – currently in their second year of studying an extended diploma in agriculture at the college – each had to complete an individual challenge, before taking part in a final group task, which saw them sail into first place.
Each team member had to judge a breeding ewe, a breeding heifer (a cow that has not previously had a calf), a lamb carcass or a pen of finished lambs, before working together to pass the final task of identifying different types of feed.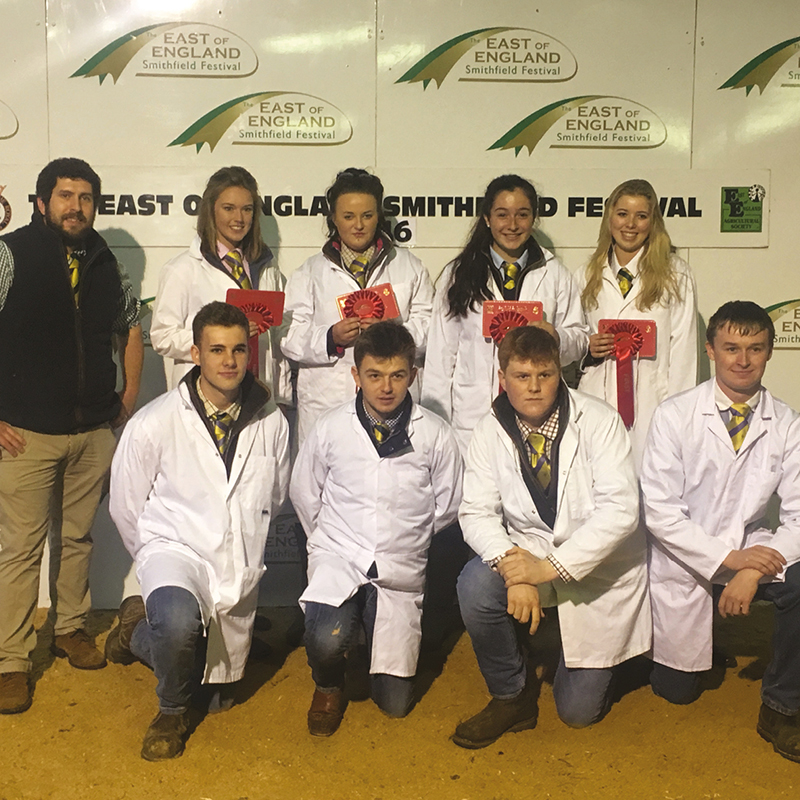 In order to judge the animals, students looked out for features such as the quality of their coats, the amount of muscle along their backs, loin and tail head, and the level of fat along the ribs – a key aspect in identifying animals ready for slaughter.
They were then asked to put the animals in order of merit, and received a mark out of 100 from the judges.
Livestock lecturer at the college Tim Moakes, who accompanied the students to the event, said: "The tasks tied in well with the agriculture course, as half of the modules are about livestock. Learning what a good heifer or good breeding ewe should look like, and identifying what a finished animal looks like if you're going to send it off for slaughter, are all key skills."
Askham Bryan college also entered a team of four boys, Tom Hartley, Richard Allen, Henry Grant and Freddie Harrison, but they were pipped by the girls.
Aside from the College Challenge, there were also categories for butchers, young stockperson of the year, the trade stand award and the livestock equipment award, appealing to professional farmers of all ages looking to show off their skills in their respective parts of the industry.
Mr Moakes said: "You drive them there, you get them ready, you give them some confidence, you tell them that they can do it, you can organise them and make sure they know where they should be, and then you leave them to it.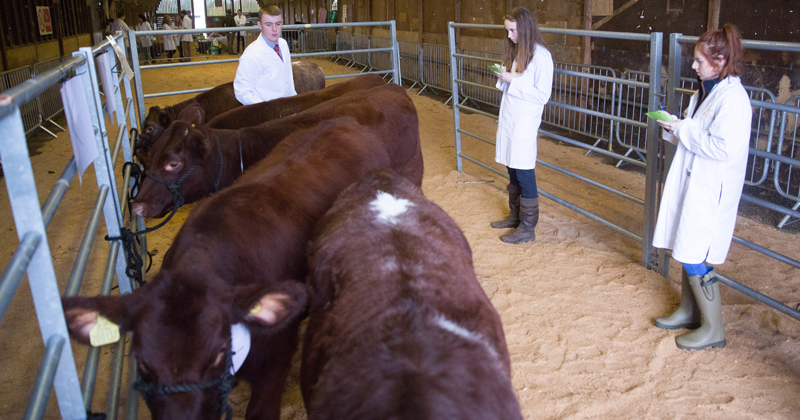 "We're all very proud of the students' performance, their achievement and the conduct shown. They were able to represent the college so well and we're just really proud of them. It just shows that we must be doing something right."
The festival was established in 2011 after The Royal Smithfield Club joined up with the East of England Agricultural Society Winter Stock Festival, and is the leading primestock show for commercial cattle and sheep; hosting one of the largest pedigree calf shows in the UK.
Featured picture: (L-R) Pippa Jackson, Emily Watson, Lauren Rucklidge and Marian Porter