Tethering a TV presenter high up to a tree is something that many people will go through their entire lives never having done, but the chance arose for three forestry lecturers from Plumpton College. Samantha King reports.
To mark the 90th anniversary of AA Milne's beloved children's character, producers from Channel 4 decided to mark the occasion with a programme called 'Winnie-the-Pooh: The World's Most Famous Bear', a programme exploring his history, friends and exploits.
I don't think it was too alien what we were doing with him
To get to the heart of the matter, producers recruited Plumpton College's forestry lecturer Dean Bell, and his colleagues Matt Moss, a programme manager for foundation degrees in forestry and woodland management, and Ollie Perry, a programme manager for level one and two students, to help tie the show's presenter Alan Titchmarsh to a tree overlooking Ashdown Forest – one of Winnie's favourite haunts.
Tying him to the tree took the lecturers around five minutes, with a further 10 spent keeping the ropes out of shot.
Dean Bell said: "We were asked if it was possible for us to put Alan Titchmarsh in the tree. To fasten him in, we used a rock-climbing harness instead of a tree-climbing harness. It was thinner, which allowed us to get it higher up his body and he could put his coat over the top of that.
"The rope was tied securely around a branch and fastened to Alan and his harness so there was no way he could move. We daisy-chained the tail of the rope and tucked it down the back of his jacket, and his left leg covered another bit of rope."
Luckily, Mr Titchmarsh had himself trained as an arborist, which made the process easier both for him and the forestry team securing him.
"He was very easy to work with, a very nice man, and he understood what we had to do. He did train as an arborist, so he said it's been quite a few years since he's been up a tree but he has himself previously climbed. I don't think it was too alien what we were doing with him," he said.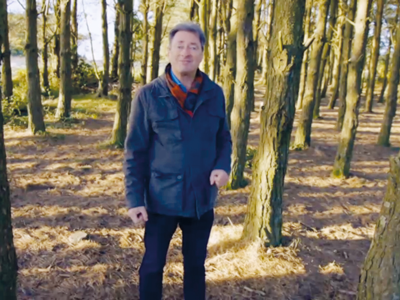 The experience has helped to bolster the college's connections with the media industry, and inspired students to think about the various career pathways available to them with their qualifications; one of M Bell's students is already considering a career filming at height in the Amazonian rainforest.
"I've got a canopy access qualification that I got for future career options such as canopy research abroad, but a lot of people do it to get qualified so they can rig up a tree and film up and down the canopy," continued Mr Bell.
"We have the facilities at the college to show and emulate what you would learn in that course. It's good to show the students a different climbing method that you adopt in a certain situation such as filming."
The one-off programme first aired on the December 31, 2016, and is still available to watch online.
Featured picture: (L-R) Matthew Moss, Alan Titchmarsh, Ollie Perry and Dean Bell