A college's musical theatre department will put on a unique version of Chicago in order to raise awareness of disability in the arts. Samantha King reports
Inspired by Kieron Hoult, a 17-year-old musical theatre student and wheelchair user, staff and students at Stratford-upon-Avon College wanted to give the classic musical a twist by putting the whole cast in wheelchairs.
Dubbed Chaircago, the department hopes the performance will show youngsters with mobility issues that they can still pursue a career in musical theatre.
Kieron is the first ever wheelchair user to enrol on the college's musical theatre course – after being turned away by a number of other institutions – and this is the first time wheelchairs have been incorporated into one of its productions.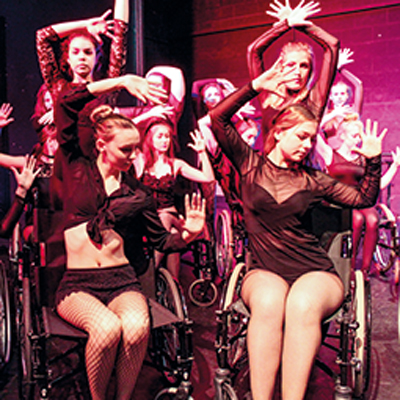 Alex Dengate, a lecturer in musical theatre, said: "Kieron originally auditioned at other colleges in the area and was simply turned away. He's got a great singing voice and he can act; his only restriction is his mobility. We thought we had to give him a crack at this."
Kieron has also taken on the job of movement director during rehearsals, teaching fellow performers how to turn, stop quickly and perform tricks like wheelies.
"A few years ago, I was told that I was unable to study GCSE drama when I was at school, so it's really important to me to prove that this can be done and show that there is a key role for people with disabilities in the arts," he said.
"The rehearsal period has been challenging and we've had a few on-stage collisions, as the other performers are still getting used to moving in wheelchairs."
The production has received sponsorship from the Red Cross, which is lending the college 22 wheelchairs for performers to use, and representatives from the charity were in attendance at the show's opening night.
Nadia Jambawai, mobility aid coordinator at the charity, said: "Until people experience an injury that affects their mobility, they just don't realise how challenging it can be. The students should be applauded for their wish to raise awareness in such a positive way."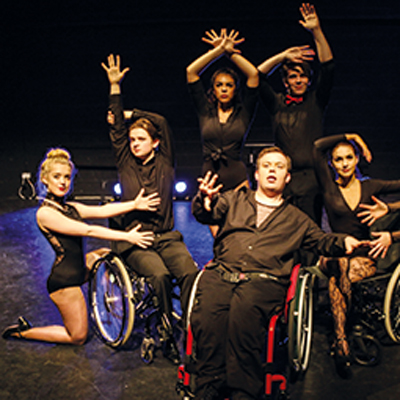 Mr Dengate is keen that other people with mobility issues are not deterred from studying musical theatre at the college in the future. 
"I hope other wheelchair users in our catchment and community area see this and think we can do this, other than thinking their options are restricted," he said.
"It was really heartwarming to see Kieron engage. Normally he's used to being the only guy in the room in a wheelchair, but now when he comes to college you don't even spot him, because everyone's in a wheelchair."
The show ran for two days, on March 22 and 23.
Main photo: The show must roll on: The cast of Chaircago