The FE sector could be facing a "fire sale" of FE colleges, according to shadow skills minister Gordon Marsden, after a leaked government report indicated that they could be sold off to the private sector.
A draft document seen by FE Week, called 'Framework for due diligence in the FE sector following area reviews', looks ahead to a post-area review world for colleges.
The most worrying section was titled 'Acquisition of an FE college by a private sector organisation'.
It reads: "Private sector organisations such as private training providers may be interested in the acquisition of FE colleges.
"They may have different benchmarks and parameters as to what is acceptable in terms of both curriculum and financial performance of the college involved."
After learning of the report, Mr Marsden said: "It's alarming that people are already turning their minds to how they can sell off what are in many cases historically public estates to whoever. It would be wrong if BIS was just able to run a fire sale."
The document, dated June 2016, also raised questions about the impact of private sector involvement on colleges' VAT exemptions.
It said: "There is a significant and increasing number of private sector organisations operating in FE.
"Not all providers are exempt from VAT and collaborative arrangements with non-empt providers could have a significant impact financial models.
"Mergers, joint ventures and other collaborative arrangements could alter the status of the provider. This needs to be investigated."
The news comes in the same week as a report by London Work Based Learning Alliance called for a level playing field among providers in London, and warned against a state owned monopoly.
BIS guidance, published in March, revealed for the first time that the government is planning to introduce an insolvency regime for colleges.
It said that, following the area reviews, the government planned no longer to bail out colleges in financial trouble, but would instead allow them to go bust.
When FE Week asked the Association of Colleges' chief executive Martin Doel about the principle of private sector firms buying up colleges, he reacted with alarm.
"Private organisations should not be able to asset strip colleges' buildings and facilities or pick and choose students or courses according to how much profit they might generate," he said.
"Any private sector organisation that wanted to buy a college must be required to adhere to the same rules as a college already does and meet the same duties and responsibilities to students, staff and community."
But Mark Dawe, the Association of Employment and Learning Providers' chief executive, who has previously called for a level playing field for all providers, said: "If the government is genuinely looking for the right solution to give a long term sustainable future to a failing college, it should be open to consider all propositions."
FE Week contacted a number of private equity firms to see if they would be interested in buying colleges, given their previous education investment portfolios, but they all declined to comment (see table).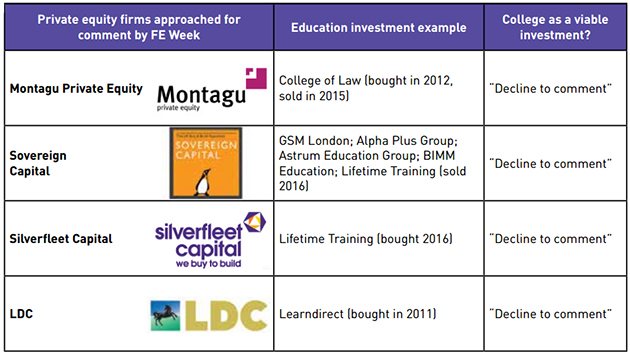 The University and Colleges Union, which published a report in 2012 calling for greater regulation of private equity firms in the education sector, warned against such firms getting their hands on FE colleges.
A spokesperson warned that private equity firms in America had been "shown to offer derisory rates of graduation, crushing levels of debt and of course dubious value".
She added: "We see little merit in allowing them greater access to the UK education sector."
BIS declined to comment.
—————————————————————————————————
Editorial – Keep profit out of colleges
What should the government do when a college goes bust?
This isn't a hypothetical scenario, as it happened to K College in 2013.
After tens of millions in bail-outs, a desperate Skills Funding Agency held a tendering process and open days to flog-off the five campus assets and contracts.
No deal was done, but subsequently two neighbouring colleges have successfully taken over the sites and provision.
What this showed was that with government support, the college sector was capable of rescuing and restructuring itself.
And there should be more college takeovers like this where needed – forced if necessary.
Every community deserves a not-for-profit college and the tax paying public should expect it to be financially efficient.
Both should be possible.
So when colleges go bust the first in the queue with a rescue plan shouldn't be those with profit motives.
It should be successful colleges, with short-term financial support where needed.
Nick Linford