An FE Week charity auction night held in the grand setting of Birmingham's Grade II-listed Council House raised at least £5,500 for the Helena Kennedy Foundation.
More than 100 guests attended the event on Tuesday, November 20, including National Institute of Adult Continuing Education chief executive David Hughes and Learning and Skills Improvement Service chair Dame Ruth Silver.
Principals and staff from providers such as Solihull College, Milton Keynes College and East Kent College were also there and enjoyed table-to-table entertainment from 11-year-old yo-yo trickster David Braden Holmes and psychological magician Mark Cairns.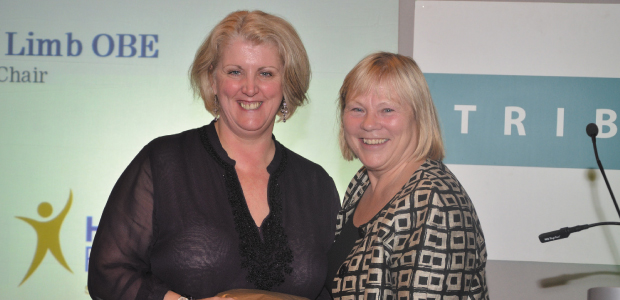 From left. Lynne Sedgmore, 157 Group, is presented with a HKF ambassador's bowl by Ann Limb, HKF
Among the top auction earners were a sports car experience day that went for £200, dinner for two at the House of Lords with Neil Kinnock for £240 and an iPad at £370.
And more than £1,200 of the night's takings came from the sale of £5 raffle strips with prizes on offer including a night at an Edinburgh hotel and a tour of Premier League football club Newcastle United's St James's Park stadium plus dinner.
The night, which was supported by NCFE and Tribal, takes FE Week's fund-raising for the charity to at least £15,500 in just over a year"
The evening was kicked off by FE Week director of operations Shane Mann before charity chair Dr Ann Limb OBE introduced the night's star guest, Athens 2004 Paralympics wheelchair basketball bronze medallist Ade Adepitan MBE.
The 39-year-old, who anchored Channel Four's coverage of this year's Paralympics with Clare Balding, is a patron of the foundation, which hands out cash to disadvantaged students to help them go on to higher education.
He gave a speech on how his life had been affected by childhood polio and said: "Everybody needs a little help in their lives, some more than others.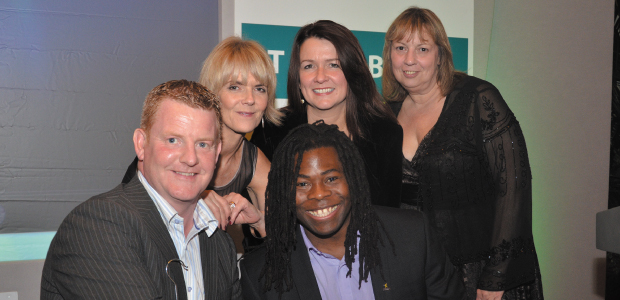 From left: Graham Towse, Grimsby Institute Group (GIG), Julie Moore, GIG, Ade Adepitan, Ellen Thinessen GIG and Amanda Rudolph, GIG. Mr Towse paid £500 for a paralympic T-shirt signed by Mr Adepitan
"Two of the most powerful things in the world are sport and education, and I'm here because I benefited from both."
Ade was presented with an ambassador's bowl to mark his dedication to the fund, before a second bowl was given to 157 Group executive director Lynne Sedgmore.
"All I want to say is thank you to all involved in this event and also the Helena Kennedy Foundation – it epitomises what further education is all about, and that's transforming lives," she said.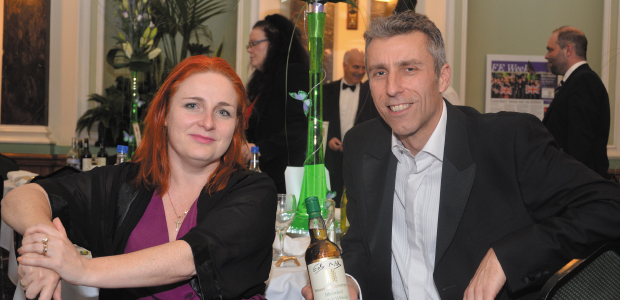 Julie Nugent, Birmingham Met College, with David Hughes, NIACE, who won a bottle of whisky signed by Ed Miliband MP in the raffle
The night, which was supported by NCFE and Tribal, takes FE Week's fund-raising for the charity to at least £15,500 in just over a year.
Nick Linford, FE Week editor, said: "It was so great to see a host of high-profile FE figures come along and support us and, more importantly, the Helena Kennedy Foundation.
"To have raised such a huge amount of money in the space of just over a year – and for such a worthy cause – was beyond my wildest dreams.
"All I can say is a huge 'thank you' to all those involved who really helped to make it a night to remember."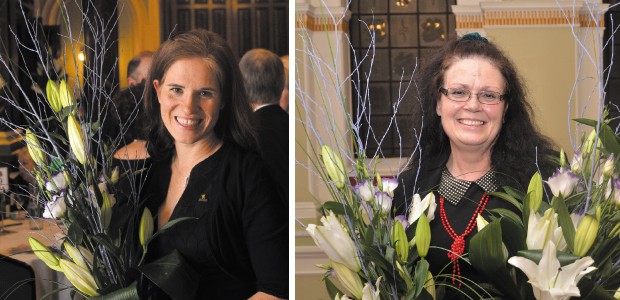 From left: Sarah Linford shows off the floral display, created by Maureen Palmer and students from Solihull College