FE Week cycled hard last month to join South Birmingham College Principal Mike Hopkins and local blind man Dave Heeley as part of their Top2Toe charity challenge.
We followed the pair as they exited Birmingham, creating an exclusive video report and in-depth interview about their progress.
Mike Hopkins and Dave Heeley were riding a tandem bicycle together as part of a gruelling 10 day charity ride, completing a total of 1,000 miles from John O'Groats to Land's End.
Dave said: "To have the support of a principal of a college really does add fantastic profile for Top2Toe.
"It also encourages many young people to follow what we are doing to help make a difference to the lives of people living with cancer".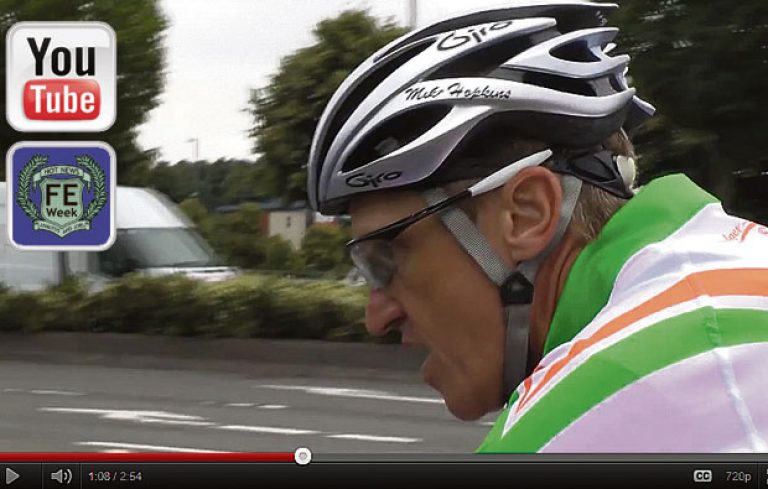 FE Week would like to reassure readers that no journalists were harmed in the making of this video
The fundraiser also included a 26.2 mile marathon which 'Blind Dave' ran each morning in order to cover the colossal distance.
Dave hopes that the challenge will raise £100,000 for Macmillan Cancer Support. To date the JustGiving website alone has received over £52,000 in donations.
Mike Hopkins told FE Week: "I'm a keen racing cyclist and compete in road races, time trials and cyclocross, and the college and I have supported Macmillan Cancer for many years, so this was the perfect challenge for me to take part in."
You can see our video coverage, including an exclusive interview with Dave and Mike over on the FE Week YouTube Channel: www.youtube.com/feweekpodcast
A written report can also be found on the FE Week website: www.tinyurl.com/feweekcycle