A ceremonial handing over of the Education and Training Foundation's certificate of incorporation sealed the new FE sector self-improvement body's official launch today.
Martin Doel, chief executive of the Association of Colleges (AoC), and Stewart Segal, chief executive of the Association of Employment and Learning Providers (AELP), gave the founding document to the organisation's interim chief executive Sir Geoff Hall and its independent steering group chair David Hughes, who is also chief executive of the National Institute of Adult Continuing Education (NIACE).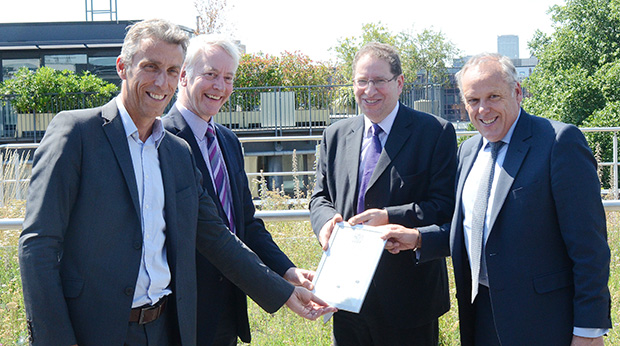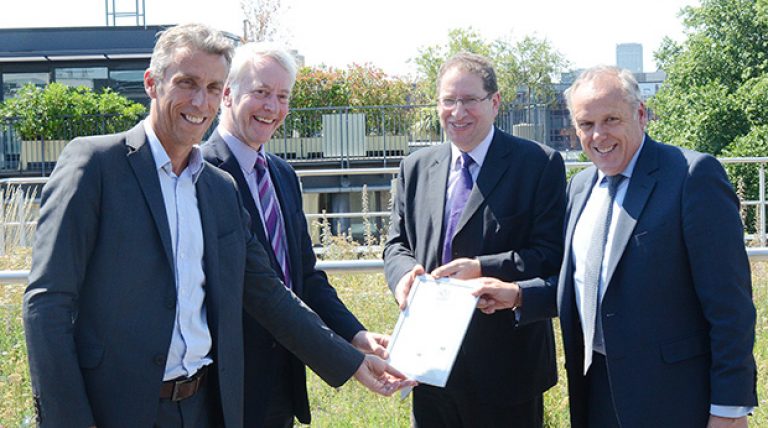 It followed the first official foundation board meeting, at London's Goldsmiths' Centre, in which the recruitment of the body's permanent chair and its chief executive featured on the agenda along with proposals for the appointment of directors.
The board also looked at the audit and risk committee terms of reference and staffing progress, among other issues.
Sir Geoff said: "We've had a very good board meeting this morning. We're enjoying tremendous goodwill and support from everyone and we hope to satisfy everyone's expectations."
He also revealed that seven staff from the sector's former improvement body, the Learning and Skills Improvement Service, had transferred to the foundation leaving 25 posts to fill.
Mr Hughes said: "It's been quite a journey to get here. One of the things that's been quite surprising and pleasing has been the degree of consensus and partnership we've achieved throughout the process.
"I'm really pleased we've got the AoC and the AELP here, along with the voluntary sector and other people fully behind what we're trying to achieve and that isn't something you can take for granted and it's not something, I suspect, that all the preceding organisations had."
The seven board members include Don Hayes MBE, chief executive of voluntary skills consortium Enable; Lynsi Hayward-Smith, head of adult learning and skills at Cambridgeshire County Council; and John Hyde, co-founder and executive chairman of HIT (Hospitality Industry Training).
Joining them is Chris Jeffrey, strategy and policy adviser for General Physics (UK) Ltd Skills Training Academy; Asha Khemka OBE, principal of West Nottinghamshire College; Peter McCann, principal of Kirklees College; and, Mark White, vice-chair of Stockton Riverside College.
The appointments were put forward by foundation members the Association of Colleges, the Association of Employment and Learning Providers, the Third Sector National Learning Alliance, and the Association of Adult Education and Training Organisations (HOLEX).
The foundation, formerly known as the FE Guild, was incorporated on May 22 and registered to the AoC's London HQ. Its website also went live today.
Top picture, from left: Sir Geoff Hall, foundation interim chief executive, Lynsi Hayward-Smith, head of adult learning and skills Cambridgeshire County Council, Don Hayes MBE, chief executive of ENABLE, Asha Khemka OBE, principal and chief executive of West Nottinghamshire College Group, David Hughes, chief executive of NIACE and interim chair of foundation board, Stewart Segal, chief executive of AELP, Peter McCann, principal and chief executive of Kirklees College, Martin Doel, chief executive of AoC, John Hyde, executive chair of HIT Training Ltd, Christine Jeffry, strategy and policy advisor for General Physics (UK) Ltd, Skills Training Academy, and Mark White, head of the vice-chancellor's office at Teesside University. Picture by Nick Linford