The government has today released figures for outcomes of FE learners, showing stark gender pay gaps, differences in earnings and future employment and learning across the sector.
The data covers the destinations of 1.1 million learners who completed an FE course between 2013-14 and 2015-16, and the earnings of those who studied between 2010-11 and 2015-16.
Here are five things that we learnt.
1. Level four apprenticeships were the biggest earners
Those who took a higher apprenticeship course earned on average £17,400 one year after study, but this grew by a whopping 53 per cent to hit £26,700 five years after study. In contrast, learners on an intermediate apprenticeship course were more likely to start off on £13,500, rising just 33 per cent to £17,900 in five years.
There was also a big difference in earnings depending on subject. Those who took an advanced apprenticeship in engineering were paid an average of £27,400 one year later, but those taking a direct learning support qualification had an average salary of £12,800.
On average, annual earnings rose by seven per cent every year for intermediate apprenticeships, six per cent every year for advanced apprenticeships and 11 per cent for level four apprenticeships.

2. Men earned a LOT more than women
When looking into the gender pay gap of the salary data, there is a clear divide between the earnings of men and women.
Five years after taking a higher apprenticeship, men were earning an average salary of £29,000 but women were paid £25,000. A similar pay difference is found in advanced apprenticeships, with men earning £21,000 after five years but women on £16,000.
The starkest difference can be found at level six skills courses. Women, on average, began their careers on £23,000 while men earned a starting salary of £38,400. Five years after study, this gap rises even further, with women on £24,600 and men on £42,700.
3. Most learners went on to be in sustained employment
Sustained employment, classed as being in paid employment or self-employment for five of the six months between October and March in the academic year 2016-17, was the most common destination for FE learners.
The figures show that 65 per cent of learners were in sustained employment, with five per cent of those self-employed and 13 per cent studying alongside their employment. Of the 221,400 learners who had been receiving out-of-work benefits when they began their course, 46 per cent ended up in sustained employment, a drop of two per cent of the year before.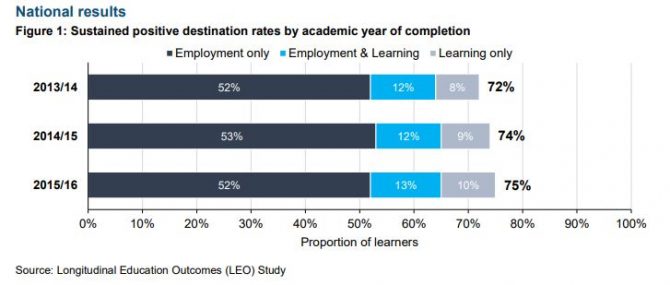 4. Almost a quarter continued learning
The data shows that 23 per cent of learners were continuing their education a year later, of which 13 per cent were also in sustained employment. Almost half were on an apprenticeship (five per cent), a higher education course (four per cent) or studying for a qualification at level four (one per cent).
The figures also show success for access to higher education courses, with 61 per cent of learners who completed a course enrolled in higher education by the next academic year.
5. Traineeships are growing in popularity
The number of learners completing a traineeship has more than trebled since it was introduced, growing from 4,750 in 2013-14 to 17,230 in 2015-16.
Of those who took a traineeship in 2015-16, 51 per cent were in sustained employment a year later and 30 per cent were in sustained learning, of which 18 per cent progressed to an apprenticeship