Sector leaders should expect sage advice on how to excel in all areas from the new FE Commissioner, now that his former college has come out on top in FE Week's first ever rankings table.
Exeter College, which was led by Richard Atkins CBE until he retired in March, scored a perfect 16 in our new survey, making it officially the most successful college in England based on a number of key criteria published by the Department for Education.
Three other colleges narrowly missed out on the top spot, with Kendal College, Selby College and Eastleigh College scoring 15 points each.
All four of the top-scoring colleges have been rated 'outstanding' at their most recent Ofsted inspections.
Exeter's current principal John Laramy told FE Week that he was "delighted" that the college's "unremitting focus on outstanding teaching, learning, employer engagement and the student experience has been recognised by this accolade".
Our success is down to our focus on individuals
"We have great students and a great team of staff," he said. "I would like to thank everyone – partners, employers, students, staff, leaders, governors and stakeholders – all of whom have contributed to our ongoing success."
Mr Atkins took up the reins as FE commissioner from Sir David Collins earlier this month, leaving a college he headed between 2002 and 2016 – which means he was in charge for the period that our data covered. 
FE Week's ratings are based on four measures: 2016/17 adult apprenticeships allocations as a percentage of all adult funding, employer and learner satisfaction scores, and destination data (specifically a college's success at getting unemployed learners into work).
All 213 colleges in the country were awarded a score of between zero and three points based on their performance in each category, with an additional volume-based bonus point available per measure. 
The points system was devised by Nick Linford, FE Week's editor and a former director of performance at Lewisham College. 
He said: "The government previously considered scoring colleges via what they called 'a balanced scorecard approach' within the Framework for Excellence.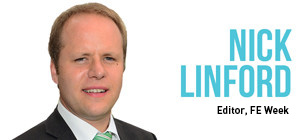 "This has now become FE Choices, but no overall score was ever implemented until now."
As reported in last week's edition, Selby College has been the best in the country at helping its unemployed learners into work, according to the latest destination data published by the DfE.
This achievement helped it take joint-second place in the rankings.
Selby's principal Allan Stewart OBE told FE Week that he was delighted at his college's performance.
"Our success is down to our focus on individuals, putting the learner at the centre of everything we do," he said.
"We also recognise what key partners employers are."
Kendal College's employer and learner satisfaction rates were among the highest of any college, according to the latest FE Choices data, which is what put them squarely in joint-second place. 
Graham Wilkinson, Kendal College principal, said: "We a delighted that Kendal College has performed so consistently well across all the measures for a number of years.  We highly value the views of our learners and employers."
An adult apprenticeships allocation of more than £11.5 million, alongside employer and learner satisfaction rates of more than 90 per cent, is meanwhile what propelled Eastleigh College to joint-second. 
Eastleigh's principal Jan Edrich said: "We are pleased to be ranked so highly in the FE Week survey, and it is a testament to the focus we have here at the college."
As we have previously reported, colleges' total share of apprenticeships cash has sunk from 37 per cent to 32.5 per cent, despite former skills minister Nick Boles urging them to up their game at last year's Association of Colleges' conference.
Explained: our league table and points-based method
It took legislation to achieve it, but the government has now finally improved the way it reports learner destination data. So now seemed like a good time to revisit the notion of a balanced scorecard for colleges. It was what the Framework for Excellence had been intended to be, but it lost its way as it morphed into a simple satisfaction survey through FE Choices. 
The balance with our table, I hope, comes from combining customer satisfaction with how many unemployed learners find work, and finding
out whether the college is responding to government demands for more apprenticeship delivery.
For those wondering why I have chosen not to include qualification achievement rates, it is well recognised that an overall all-age, level and sector-achievement rate tells you little to nothing about how good a college is. For example, the shorter the course, the higher the typical achievement rate. What's more, the recent inspection of NCG taught us that achievement rates need to be put into context before we form judgements. 
I've also chosen not to include Ofsted grades because they represent a snapshot in time. And, as report on page two, some colleges have not received a full inspection in over 10 years.
Click on the images below to view the tables