More trouble has erupted in T-Level planning, after it emerged that no-one has yet been appointed to the advisory development panels that should have met for the first time four months ago.
FE Week made a Freedom of Information request for the names of all the appointments made to these technical education panels, after the Department for Education repeatedly refused to say whether or not they had recruited to the paid positions.
In the response to the FoI request, a spokesperson said: "Following a search of the department's paper and electronic records, I have established that we have yet to make appointments to the panels of professionals, so do not yet hold this information.
"We are currently reviewing proposals and expect to make appointments to the panels shortly."
The DfE posted job adverts seeking industry professionals to serve as panel members or chairs back in January.
These were to serve on "panels of professionals" that would "develop occupational standards for new technical qualifications, as part of flagship reforms to England's post-16-skills system".
Panellists' employers would be paid £1,000 a quarter, and the chairs' employers would receive £2,000 a quarter.
According to the adverts, the DfE had been aiming to notify successful applicants "in the spring" of this year – and the first panels were expected to start work in March.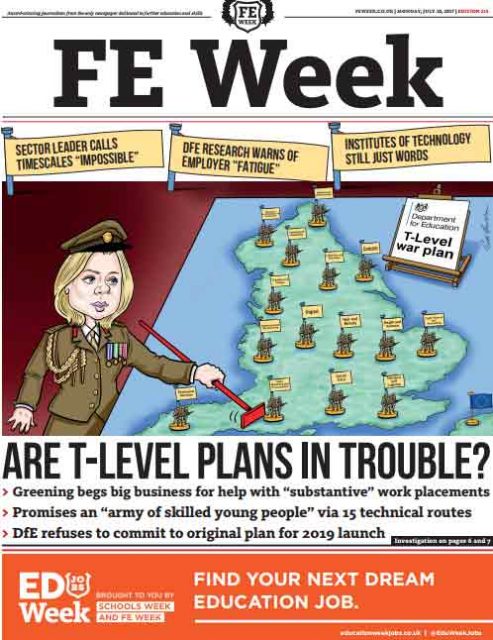 But when FE Week asked for an update on the panels in June, as part of an investigation into whether T-level plans were in trouble, we were told that an announcement would be made "in due course".
And when we asked again the following week – after education secretary Justine Greening urged businesses to get behind T-levels during a speech to the British Chambers of Commerce – we were told that further details were still unavailable.
Several major awarding bodies including City and Guilds have recently pleaded with the government to rethink the "impossible" T-level timetable, amid growing evidence that plans are already running behind schedule.
According to the skills plan published July 2016, and based on the recommendations from the Sainsbury review of technical education, the first two pathfinder routes are meant to be ready for teaching from September 2019.
But this depends on reaching a number of milestones on time, including setting up these panels of industry experts to help with the development of the new qualifications.
At the same time, the Institute for Apprenticeships is also establishing "prestigious employer-led groups" to help shape the future of the apprenticeship programme.
The names of the 15 chairs for the IfA panels were announced in April, while adverts for the panel members were posted in June.
Mark Dawe, the chief executive of the Association of Employment and Learning Providers, last month branded the two separate sets of panels "a recipe for a lack of joined up decisions and inconsistent outcomes".