Ofsted's FE and skills inspection regime could be scrapped as the watchdog looks at a huge merger shake-up including schools and early years.
It is understood that, just two years after the current FE and skills common inspection framework (CIF) was introduced, Ofsted is considering merging all education inspections under a single framework from September next year.
Michael Cladingbowl, Ofsted's national director of inspection reform, is currently working on the proposals, which are due to go out for consultation "very soon".
Sean Harford, Ofsted's national director for schools policy and initial teacher education, and regional director for East of England, wrote on Twitter about the proposals today (pictured right).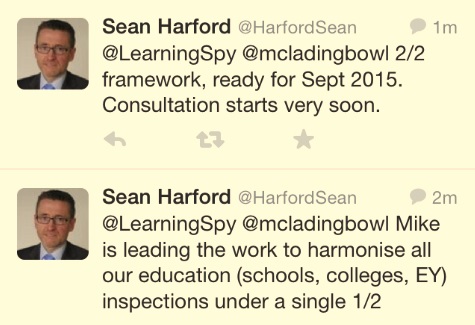 He tweeted: "Mike [Cladingbowl] is leading the work to hamonise all out education (schools, colleges, EY [early years]) inspections under a single framework ready for Sept 2015. Consultation starts very soon."
The move could spell the end of Ofsted's sector-specific CIFs with all inspections and reports following the same format.
An Ofsted spokesperson confirmed it was looking at the merger idea and said that the proposals formed part of its Future of Education Inspection programme.
However, he said it was too early to comment further on the proposals, but he could not rule out the prospect of school inspectors visiting FE and skills providers.
It comes with Ofsted's FE and skills, and schools, inspections being brought in-house for 2015/16.
The education watchdog said in May that it would not be renewing contracts with private inspection service providers (ISPs), which are set to expire in August next year.
The current contracts, with CfBT, Serco and Tribal, have run since September 2009. But additional inspectors (AIs), who are currently contracted through ISPs for inspections on behalf of Ofsted, would be contracted directly by Ofsted from September next year , giving it more direct control over their selection, training and quality assurance, it claimed.
It also comes just after news that providers given a grade three rating by Ofsted are to get an extra six months to improve as the education watchdog brings in a two-year reinspection deadline.
The timeframe for reinspection for providers with a grade three ('requires improvement') judgement was between a year and 18 months, but from next month that will change to between one and two years. Providers inspected before September will remain subject to the 18-month deadline.
Ofsted national director for FE and skills Lorna Fitzjohn (pictured) told FE Week: "This change will allow us greater flexibility in taking into account evidence such as annually issued performance data. Ofsted uses this information when considering whether providers are making the necessary progress in raising standards."