Research by leading FE academics has shown England is the only one, out of eight countries reported on because of their strong vocational education systems, that will have end-point assessment-only apprenticeships.
The report shared with FE Week, called The role of qualifications and end-point assessment in apprenticeships: an international comparison, looked at how apprenticeships are delivered across England, Germany, Switzerland, France, Denmark, Austria, Alberta Canada, and the Netherlands.
The document commissioned by Semta, a charity that represents around 150,000 engineering employers and owns the awarding organisation EAL, claimed EPA is not sufficient in itself to measure an apprentice's worth and call for a "hybrid" approach.
It pointed out that "all the countries discussed in this report, apart from the Netherlands, require apprentices (to a greater or lesser degree) to pass written examinations as well as tests of their practical competence at the end of their training.
"However, none of the countries [apart from England] relies totally on EPA, and EPA comes in many shapes and sizes. Evidence for making assessment judgements is derived from both the workplace and the off-the-job setting and usually carries equal weight."
Graham Hasting-Evans, managing director of awarding organisation NOCN, raised concern about this.
He said: "While recognising that an EPA is an important way of testing the apprentices, we have always believed the on-programme and gateway assessments are also important.
"We live in a global skills market and we want our apprenticeship standards to be recognised as world class. Therefore, it is concerning that we now look out of step with other major economies."
Led by Lorna Unwin, a professor emerita for vocational education with the UCL Institute of Education, the academics cast doubt on the government's decision to rely totally on one EPA to formally recognise an apprentice's competence.
This major change, from the old method of continuous assessment, was recommended in 2012 through entrepreneur Doug Richard's review of apprenticeships.
The new report said the government's decision to ditch a requirement for apprenticeships to include a recognised qualification rightly draws public criticism.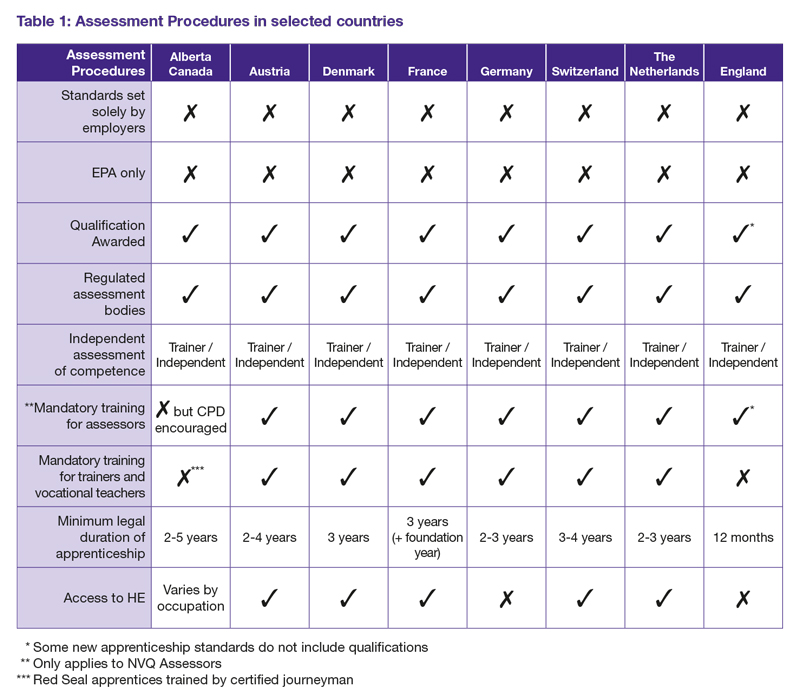 In all the countries expect England in Semta's report, researchers found nationally recognised and validated forms of accreditation were "regarded as important and apprentices receive some form of certificate or diploma".
The report also found England to be the only country where the content of an apprenticeship was set only by employers.
Professor Unwin told FE Week the reliance on EPA was particularly concerning, with regard to the impact on apprentices in terms of their "labour market mobility and future access to further and higher education".
She added: "It is clear from this research that if an apprenticeship is to have credibility and worth for both individuals and employers, it must end up with a recognised qualification."
In August, the Institute for Public Policy Research said taking away the requirement for apprenticeships to include a recognised qualification could "harm young people who will need transferable qualifications in an increasingly flexible jobs market".
The think-tank called on the government to consider reintroducing a nationally recognised qualification as a part of all apprenticeships.
Ann Watson, chief executive for Semta, said: "The government talks of apprenticeships as a ladder of opportunity – but by focusing solely on one end-point assessment as the measure of an apprentice's worth, we risk kicking the ladder away."
The Department for Education could not comment at the time of going to press.