Employers will soon be posting scores and reviews of their apprenticeship provider in an online review tool similar to Trip Advisor, according to the Education and Skills Funding Agency.
The 'what are employers saying' service will invite employers who have registered apprentices on the apprenticeship service to feedback on specific aspects of their programmes, with the first beta version of the feature specifically focusing on training providers.
Employers will be asked to rate training providers based on a list of attributes, and identify what a provider does well and where it should improve. They will then give an overall rating based on the quality of the service, measured on a four-point scale ranging from 'excellent' to 'very poor'.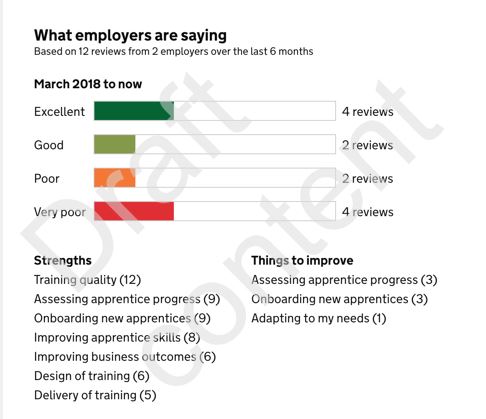 This feedback and overall rating will be visible to anyone searching for a specific training provider in the 'find apprenticeship training' service.
The feedback will not be moderated before it appears online. However, users will be limited to simply providing scores, and cannot submit any written responses.
The service was originally due to begin operating between July and September this year, and was supposed to also include an option for apprentices to give feedback.
It is not clear why it has been delayed. Although the ESFA's latest update on the service made no mention of apprentices giving feedback, a spokesperson for the Department for Education said apprentices would still be included in the new service and more information would be available soon.
A launch date has not yet been released, but a post on the ESFA digital blog said the first release is "due very soon" and will begin with just a small number of users.
The agency is also developing a system to ensure that training providers are notified when they receive feedback, to allow them to address any issues raised.
The ESFA plans to make employer feedback a key metric in all searches made on the 'find apprenticeship training' service, to help employers choose the best training providers. Also in the pipeline are plans for employer to give feedback on specific apprenticeship standards and end-point assessment organisations.
Paul Kelman, who is developing the system for the ESFA, wrote on the digital blog that employers "want to know what other employers think of training providers.
"We have listen to employers who tell us that they want up-to-date information and to hear from their peers when it comes to apprenticeship training providers."