Views are being sought by the Education and Skills Funding Agency on proposed changes to their subcontracting rules – as officials bid to cap deals and "eliminate" poor arrangements.
A consultation went live today and responses to 10 recommendations will need to be submitted by 17 March.
One key proposal is to strengthen controls on the volume and value of provision that can be subcontracted by a prime provider.
A percentage cap is proposed on subcontracted provision of 25 per cent of ESFA post-16 income in 2021/22, and further reducing that percentage to 17.5 per cent in 2022/23 and to 10 per cent in 2023/24.
The ESFA also wants to "exercise greater oversight of the volume and value of provision that can be delivered by a single subcontractor".
Its consultation said where the aggregate value of a subcontractor's delivery exceeds more than £3 million of ESFA funded provision, the agency proposes to make a referral to Ofsted for the subcontractor to be subject to a direct inspection.
Another key recommendation is to introduce "stronger criteria for subcontracted provision delivered at a distance".
The ESFA said that as a "broad rule of thumb", it believes that subcontracting partners should be no more than one hour away from the prime contractor by car.
Prior to entering into any distance arrangements, the agency proposes that providers "will be required to submit a case to ESFA for approval within a specified period, and must obtain the agreement of ESFA before delivery can commence".
And from 2021/22 the ESFA proposes to introduce stricter controls on the circumstances in which the whole of a learner's programme can be subcontracted.
Whole programme subcontracting "divorces the learner from the provider with which they are enrolled and raises questions about the extent to which they can be properly considered to be learners of the directly funded provider," according to the consultation.
In future, providers that wish to subcontract the whole of a learner's programme will be required to make a case to ESFA and must obtain agreement to such arrangements before delivery can commence.
The ESFA said it is "particularly concerned" about the delivery of subcontracted sport related provision.
"Problems have arisen as there is generally also a sports club involved as a third party in the programme which may provide specialist coaching, and the boundaries between the funded education programme and the associated coaching activities become blurred," the consultation document said.
The ESFA proposes to "make it a requirement that the lead provider must have a direct contractual arrangement with both the subcontractor and the sports club".
There would be no financial transactions between a subcontractor and the sports club – all financial arrangements would be directly with the lead provider.
The ESFA is also looking to introduce a new "rationale for subcontracting" requirement as part of provider subcontracting declarations. They will need to "state the educational intent for entering into subcontracting arrangements and that governors and boards have agreed this".
The consultation states that "entering into subcontracting arrangements for financial gain" will not be considered as an acceptable reason for doing so.
FE Week analysis of ESFA data shows that subcontracting accounted for £650 million in government funding for adults in 2018/19, and the practice fully or partially funded 25,230 students aged 16 to 19 at 587 subcontractors.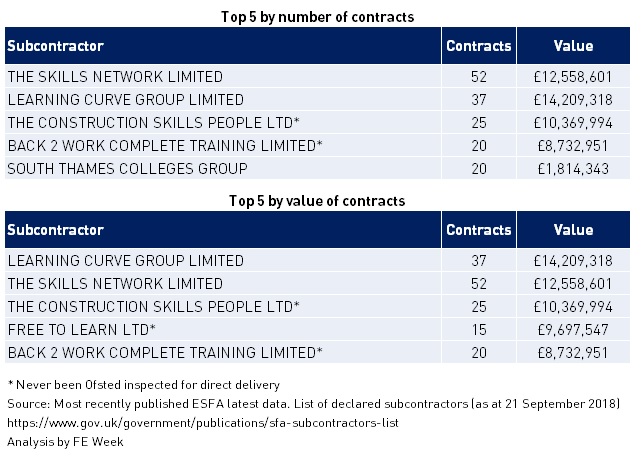 The agency has, however, not updated its list of declared subcontractors since 5 November 2018. It has also not published actual subcontracting fees and charges for all providers for 2017/18 as it promised to do.
The review aims to "ensure public funds are properly spent, maximising the benefit for learners" and "improve oversight of subcontracted activity".
It will also "eliminate subcontracting that is undertaken for purely financial reasons" but "retain subcontracting that meets niche or specialised needs, improves access and provides opportunities for disadvantaged learners".
Eileen Milner, the chief executive of the ESFA, said: "Where subcontracting is done well and for the right reasons, it can fill gaps in niche or expert provision, provide greater access to training facilities or offer an entry point for disadvantaged groups.
"However, as highlighted in my letter to the sector in October which announced ESFA's subcontracting review, despite tightening arrangements, there is still room to improve.
"We continue to receive information and investigate cases where subcontracted provision is not appropriately controlled, overseen or managed by the lead provider, this is a concern.
"We expect consistently high quality provision of education and training in the post-16 space."
The ESFA plans to start implementing rule changes at the start of 2020-21.