Employer groups have complained about the "inordinately long time" it has taken to develop the new apprenticeship standards, some of which were first published over two years ago but are still unready for delivery.
FE Week analysis has found that 16 apprenticeship standards published on the gov.uk website between April 2014 and March 2015 have still have not had an assessment plan passed by the Institute for Apprenticeships, meaning they cannot be finally approval for delivery.
This process seems actually to have slowed since the Institute took responsibility for the standards, with the number of new assessment plans approved per month rising from two to six between January and March this year, but dropping back to just one in April when the IfA began its work.
A further three assessment plans were published in May, but there have been none so far in June.
Keith Donnelly, a business development manager at facilities and construction services company Carillion and a trailblazer lead for two construction apprenticeship standards, told FE Week: "It has taken an inordinately long time to get our carpentry/joinery apprentice standard and assessment plan developed, approved and ready for use.
"In my opinion the main reason for the delay has been that the official guidance and rules surrounding the content and structure of assessment plans have continually changed over the last few years."
He continued: "I am absolutely amazed that I have still been able to maintain the interest and support of the employers in my group for this length of time, but their frustration is now at a critical stage."
FE Week enquiries revealed employers working on the beauty professional apprenticeship standard were similarly exasperated.
Hilary Hall, who is chief executive of the National Hairdressers' Federation, said developing the standard itself had been "a relatively quick process", but "developing assessment plans has turned out to be much more time-consuming".
Their frustration is now at a critical stage
"There have been many policy changes and changes to the approval criteria, which has meant a considerable amount of reworking," she said.
"For all the trailblazer groups who started in the early phases, there has been the added complexity of wholesale changes to funding mechanisms."
She added that although "employers are supposed to be 'in the driving seat'", changes to government policy have "continually got in the way".
A separate spokesperson for the beauty trailblazer group said despite the "frustration" caused by "a number of policy changes in recent years", it remains "committed to quality apprenticeships that deliver value", adding: "We have submitted to the Institute at the end of May and now await the outcome."
FE Week put the concerns raised by the trailblazer groups to the IfA and was told the organisation is "looking at the end-to-end process as part of the development of our new website".
A spokesperson said the site, which will be independent from gov.uk, will "improve the visibility of standards and assessment plans that are available or in development".
"This will also speed up the process through web based development and submission processes," she said
Of the other standards first published two or more years ago, the security first line manager and the building services engineering craftsperson standards are now close to being ready.
Donna Allan, the chair of the security standard's apprenticeship working group, and head of learning and development for security company G4S, said: "The standard is in place and we are working with assessment bodies and qualifications regulator Ofqual to allow learners to start by September."
Lindsay Gillespie, a skills development and policy coordinator at the Building Engineering Services Association, who is the trailblazer contact for the sector's craftsperson standard, said on June 6 that it had "recently received final sign-off from the IfA".
"It has a further check to go through due to the general election, but should be published shortly," she added.
Kristin Watson, director at EY and a trailblazer contact for the professional accountant standard, told FE Week that although the level seven standard had been designed "some time ago", the trailblazer committee had been "working on other levels in the meantime".
She added that it had been revised "quite significantly", but the team was "close to finalising" the work.
Meanwhile, a spokesperson for People 1st, an employment and learning organisation which has been involved in developing apprenticeships for in the hospitality sector, said the trailblazer group had been developing seven new standards in total and had prioritised level two and three standards, which have gone live.
"The level four hospitality manager assessment plan is subject to some final revisions in response to industry feedback and is currently being brought in line with the new IfA guidance."
She said the group intended to submit this standard to IfA for approval "at the end of June", followed by the assessment plan for a level four senior chef culinary arts standard in July.
The trailblazer contacts for six further construction industry standards and one in the fire and safety sector (see table) had not responded by the time of going to press.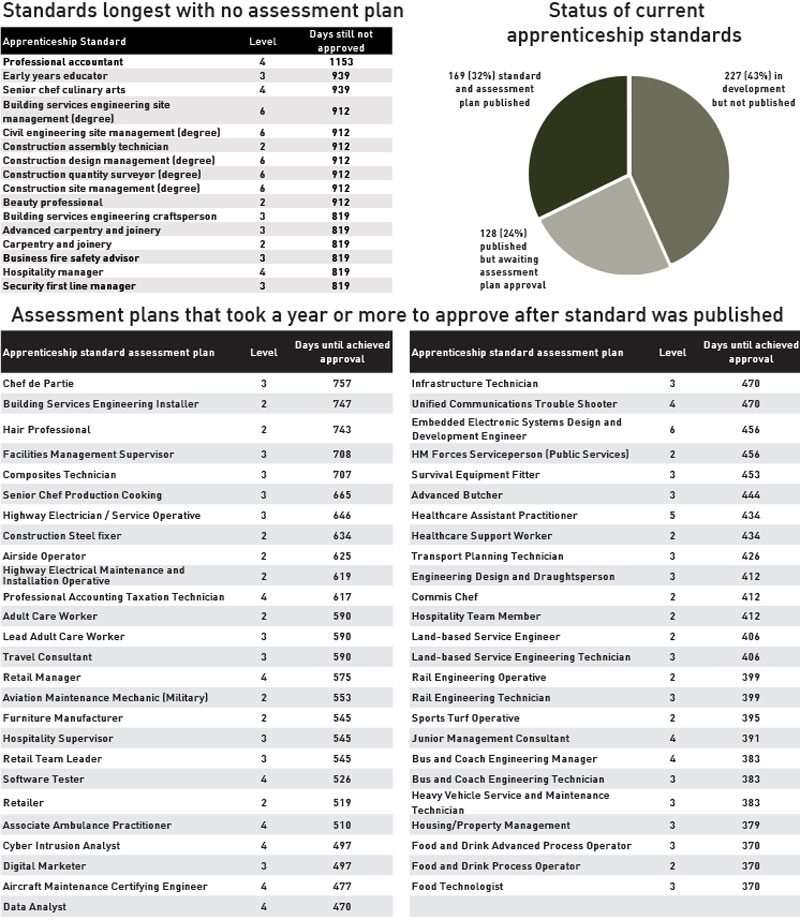 Case study: two years and seven months of waiting
The level three early years educator apprenticeship standard has faced particular difficulties since it was first published in November 2014.
The standard initially required English and maths GCSE at grade C or above, but a sector campaign called #SaveOurEarlyYears was launched in April 2016 in an effort to prevent this. Led by groups such as the awarding organisation Cache, it called for level two functional skills to be accepted as an alternative qualification for entry onto the apprenticeship.
A consultation was subsequently launched in November 2016 by Caroline Dinenage, then secretary of state for women, equalities and early years, into which literacy and numeracy skills are required for EYEs.
She then gave her support to the campaign and it ultimately succeded. In March this year the government confirmed it would broaden the apprenticeship standard to accept level two qualifications including functional skills.
But these changes undoubtedly had an impact on the process for the standard. In February, shortly before the government's U-turn, the employer-led early years apprenticeship trailblazer group was disbanded by the Department for Education, due to what a spokesperson described as "slow progress".
Fay Gibbin, training manager at the Busy Bees Training Academy, is now part of the new childcare apprenticeship trailblazer group. She told FE Week: "The assessment plan for the EYE level three apprenticeship standards is due to be submitted to the sector for consultation in July, which all employers will have the opportunity to provide feedback and help shape the assessment plan. "Consultation and gathering feedback from industry professionals around the changes is an important part of developing any set of standards."
IFA proposals to tackle the delays
Clearer expectation-setting at the outset, including the Institute and trailblazer signing up to an 'Expectations of the role' document.
Review of proposals, standards and assessment plans submitted for approval to identify those that require additional work. These will be provided with additional support to address each of the areas before they are reviewed by route panels.
Flexibility for trailblazers to submit their assessment plan alongside, rather than after, their standard, if this is what would work best for them. This will halve process time.
An offer for the trailblazer chair to participate in the approvals meeting to answer questions in the moment.Tailored support for trailblazers, including access to assessment specialists when needed.
Digital notification of progress and next steps.