Employer satisfaction levels have fallen across the FE sector this year, but private providers are still outperforming colleges.
The latest government research, based on the Education and Skills Funding Agency's 2017/18 employer satisfaction survey, shows a small decline in satisfaction with every type of provider.
The survey of almost 55,000 employers revealed that 87.8 per cent were satisfied with ITPs, while 84.4 per cent expressed the same satisfaction about general FE colleges.
The scores, based on the median rating for the 170 general FE colleges and 327 private providers with sufficient employer satisfaction feedback to be counted in the FE Choices data, are both lower than last year's, suggesting that overall satisfaction has declined.
Last year, 88.1 per cent were satisfied with ITPs, and 84.6 per cent with colleges.
Hugh Baird College in Liverpool topped the rankings for FE colleges, with an employer satisfaction level of 99.2 per cent. The lowest included satisfaction rate for an FE College was for Newbury College, at just 40.5 per cent.
In comparison, 15 private providers received satisfaction ratings of 100 per cent from employers.
The proportion of employers either "likely" or "extremely likely" to recommend their training provider to others has also seen a small drop, from 86 per cent last year to 85 per cent this year.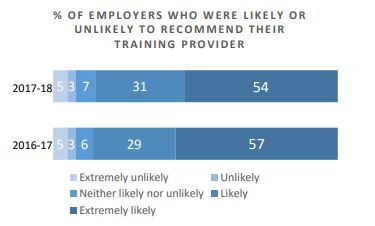 Fewer employers are highly satisfied. Nine in 10 employers were satisfied with the overall quality of the training (91 per cent) and with their training provider (90 per cent), giving a score of at least six out of 10. However, levels of satisfaction on both of these measures has declined by two percentage points each since last year, and the proportion of employers giving a score of at least eight out of 10 has dropped by three and four per cent respectively.
Another measure to see a decline was employers' assessment of their ability to influence training, with 85 per cent giving a rating of at least six out of 10 for the measure – three per cent fewer than last year.
Small organisations with less than 10 employees had lower levels of satisfaction than larger ones, while those who were only delivering adult apprenticeships tended to be more satisfied with the quality of the training compared to those who were only delivering apprenticeships to 16-18-year-olds.
The highest satisfaction levels for the quality of training were reserved for employers who delivered apprenticeships in engineering, manufacturing and technologies, but those with apprentices in agriculture, horticulture and animal care were the least satisfied.
Employers were most satisfied with the professionalism of staff delivering the training, with 81 per cent giving the highest rating of between eight and 10. They were least satisfied with the clarity of communication from the training provider throughout the training process, with 72 per cent giving a rating of eight out of 10.