A college which recruited a robot to help students with autism, and a project to ease learners' return to classrooms have been recognised at this year's Natspec awards.
Eight awards were handed out to the specialist further education sector at a virtual ceremony this afternoon, for categories such as student voice, pathways into employment, and home learning.
Chair of the awards' judging panel and retired Ofsted inspector Nigel Evans called it a "privilege" to play a part, with the standard of submissions being "very high and demonstrating the innovation, expertise, and creativity within the specialist FE sector.
"It was a challenging task for the judges to single out individual winners in each category."
The panel, he said, was "delighted" to see how many of the submissions were aimed at students with severe or profound disabilities.
'Genuinely innovative' approach recognised
One of the winners, of the innovative use of technology award, was Bridge College in Manchester for introducing a "QT Humanoid Social Robot" into the classroom.
The robot is designed to help improve the communication skills, engagement, and mental wellbeing of learners with autism spectrum disorder.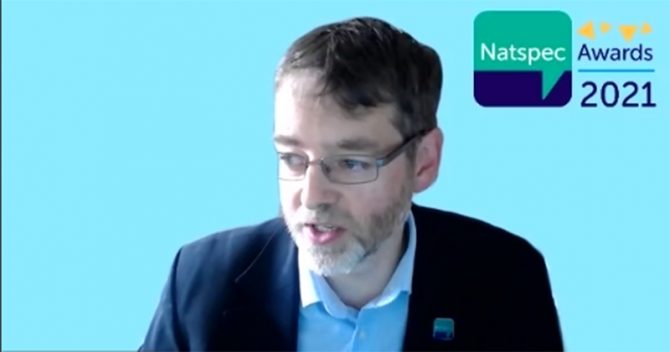 Category judge Rohan Slaughter, a lecturer in assistive technology at the University of Dundee, called the use of the robot "genuinely innovative and is clearly effective in both the project elements described".
The wellbeing and mental health award has been awarded to community interest company Eat That Frog's community wellbeing programme.
The online course used simple modules on various wellbeing aspects, tailored for the learner, and judge Liz Maudslay, the Association of Colleges' SEND policy manager, said she "really liked the range of activities".
"The enthusiasm with which staff and students entered into the activities was very evident.
"I was also impressed with the very real and meaningful links that were made with the community, especially the way in which the project recognised that one of the key aspects of improved mental health is doing things with and for others – something that often doesn't happen with SEND students, who are so often 'done to'."
College's coronavirus recovery programme sees success
The curriculum innovation award went to the 'RESET, RECOVER, RECONNECT!' programme run by Orchard Hill College in London and Surrey.
This programme involved a "recovery curriculum", so students could transition back into education; as well as tackling anxieties and worries before moving onto students' learning objectives.
Evans, who judged this category, said it "successfully helps students return to classroom-based learning after extended periods of absence.
"In particular it responded to students returning to college following the disruption caused by Covid-19".
He highlighted how the project had placed great importance in rebuilding routines, managing friendships, and getting used to being a student again.
And how the project could be adapted for other situations, he added, such as students returning to college after a long absence or joining a course other student had already started.
Ambitious College, based in London, received the home learning award for what judge and former Department for Education official Helen Brooks called a "tailored programme for each student" including "Zones of Regulation" to help regulate students' mood, "bright and clear instructions" for tasks such as making tortilla wraps from home, and occupational therapy television.
The full list of Natspec award winners is as follows:
Innovative use of technology – Bridge College
Pathways into employment – LEAP College
Student voice − Sense College
Wellbeing and mental health − Eat That Frog
Inter-disciplinary working − Portland College
Partnership working − Linkage College
Curriculum innovation − Orchard Hill College
Home learning − Ambitious College