How do you handle your new principal's demands? Is the managing director refusing to budge?
Dr Sue Pember, the former head of FE and skills investment at the Department for Business, Innovation and Skills (BIS), who was awarded an OBE for services to the sector in 2000, puts her extensive sector knowledge to good use for FE Week.
On the third Monday of every month Dr Sue, who is the Holex director of policy and external relations, answers your questions, backed by the experience of almost a decade as principal of Canterbury College, in addition to time served in further senior civil service posts at the Department for Education and Employment, Department for Education and Skills, and Department for Innovation, Universities and Skills.
Email DrSue@feweek.co.uk to ask her your question.

I have just heard my grand-daughter has been successful in getting a place at the college where I am a governor. I am concerned about a perceived conflict of interest. What should I do?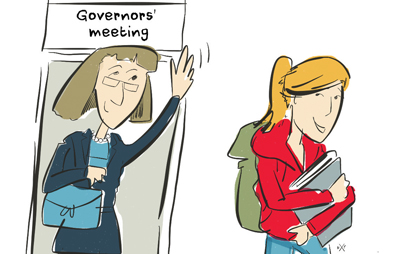 It's fantastic that your grand-daughter will be attending the college and there should not be a conflict if handled properly. First, you need to alert the clerk, chair and principal (an email will suffice). Explain the position and give details of the course she will be on. Say that you will declare interest at meetings where that subject area is being discussed. The most important thing is for you to be seen to be fair and not prioritising that subject area for resources over any other. Remember you will have a new insight which could be valuable to your work at the college.

I am a new staff governor and my first meeting is next month. I have spoken to the previous staff governor and he said it was pointless going to meetings as no one listened to the staff. How do I find out what my role is and how do I ensure my opinions are listened to?
Your first step is to discuss with the clerk your role and ask her/him if there is an induction programme for governors. If there are other new members then you should be able to join this programme. The induction should cover roles and responsibilities, the code of good governance and background to the college, including plans and the most recent self-assessment report. Often an induction will include a learning walk where you can meet students and have discussions with staff. Even though you may think you know all this, it is still worth doing. The induction should also include a meeting with the finance director. Many principals meet with their staff governor monthly so they can discuss and help resolve issues.
The Association of Colleges (AoC) supports the University and College Union to organise an annual staff governors' meeting and they both have material on their website. Making an impact is an issue for all, not just for staff governors, and AoC has addressed this through their Education and Training Foundation-funded training materials.
Be proactive and ask for a meeting with the chair and other governors outside of meetings. Use this meeting to discuss how you get the staff voice heard and explain you want to be an active member of the governing body and could they help you in that quest. As a staff member you are able to provide valuable insight into the workings of the college and your fellow governors will recognise this and want to hear your views.

I have had many questions on this topic so I have tried to cover several of the points raised in this answer.
The area review initiative was instigated because of concerns being raised about the financial solvency of some colleges. The government has assessed this issue and now feels it has to intervene.
The Department for Business, Innovation and Skills (BIS) document entitled Reviewing post-16 education and training institutions released this month recognises the independence and autonomy of colleges and clearly states that it will be governors who have to take the decisions.
Your role is to cooperate in the review process, but it is for you to determine what is best for your existing and prospective students.
You have to make a judgement about whether local students and the college could be better served by being organised in another way. That could be by merging with another institution, or finding ways to engage in shared services that are more cost effective.
If you are already a middle to large-sized establishment, perhaps merged a few years ago, have a healthy bottom line and have plans that match the Local Enterprise Partnership priorities, you might judge the college's long term solvency is best served by staying as you are now and continuing to implement your own development plan. On the other hand, if your finances are weak and not improving, then you really need to fully embrace the review process and ensure there is a long term solution that meets local need. If your finances are poor you shouldn't wait for the review to start you need to be taking decisive action now to bring down costs.
The government's main lever is through funding and, although they may not wish to use a big stick approach, what they could do is to say that if you don't accept the findings of the review they will not provide any bailout package if that were to become necessary.
Area reviews could, with the right approach, be a very good exercise but it's worth remembering that it is the governing body that decides.