On the third Monday of every month Dr Sue, Holex director of policy and external relations, answers your questions, backed by the experience of almost a decade as principal of Canterbury College, in addition to time served in senior civil service posts at central government departments covering education and skills.
Curriculum changes
I have been a college governor for almost six years now and it seems that as soon as we get an understanding of how courses and programmes are working it all changes again.
I am not sure how we are supposed to oversee quality when the goal posts of content and format keep changing. We now hear Lord Sainsbury is going to undertake a review of content and establish "up to 20 specific new professional and technical routes". It takes a long time to establish a quality brand and I just don't see what is gained from constantly changing the landscape.
You are right in that constantly changing the content and format of programmes doesn't help providers and learners and, it certainly doesn't assist employers when they are recruiting new staff. Just defining new routes alone is not enough.
There are three essential elements which do not change; the content needs to be relevant, the programmes on offer need to be responsive to employers' current and projected needs, and the qualifications gained should be a passport to a job and/or progression into higher education.
Getting started on the ladder is just as important as having a ladder to climb. We should not forget that those who had a bad start in education, or need to retrain in later life, must have access to basic education and skills provision to set them on their way.
---
Chair job descriptions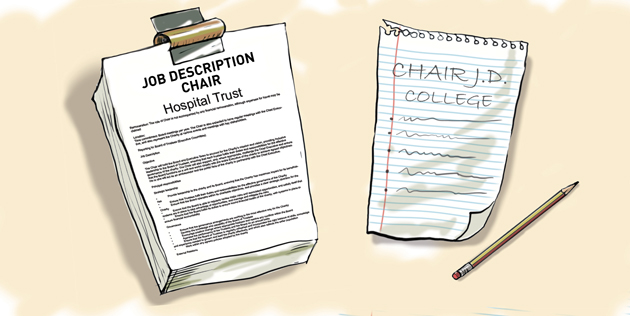 I am the chair of a college and also a hospital trust. For the hospital board, I have a lengthy and detailed job description (JD) but, at the college, I have just a brief note given to me by the previous clerk with very little detail. I would like to ask the new clerk to prepare a more detailed description — is that acceptable?
Yes, it is. A modern JD for chairs normally covers what a board member needs to do plus extra detail on the chair role, which is to provide strategic leadership, foster a supportive and constructively challenging working environment between the chair, principal, board and clerk, the need to ensure effective communication and make provision to evaluate overall governance performance. The JD can be used to monitor and appraise the performance of the chair.
Boards often have search committees (or similar working groups) for recruiting new governors. They can help the clerk with the preparatory work. Note, it is good practice to have similar JDs for the vice-chair and for the chairs of sub-committees.
The presentation and approval of the new JDs by the board might be an opportunity to make sure that all governors are clear about roles and responsibilities. These are set out in the Code of Good Governance for Colleges.
---
Sixth form college academy conversion
I am a sixth form college governor and we recently reviewed our mission and intend to concentrate on our strengths. We do very little with those aged over 21 and, although the budget is tight, we are managing well and our student experience, reputation and results are very good. However, when we look for support for our staff and for management development, we find ourselves looking towards the schools sector and the training offered there. Also, we recruit mainly from schools and so we are thinking we should apply to become a Free School or an Academy, but every time we suggest it we are knocked back.
First of all, well done for reviewing your mission and for the analysis of your current position. This should put you in a good place when your college is considered under an area review. I have always thought that good sixth form colleges were 'education gems' because the model works so well.
On your question of possibly becoming an Academy, DfE is still considering its position. I share your frustration that anyone can apply to set up a Free School or an Academy but, as an existing sixth form college, you are denied this opportunity. However, it is complicated. Unravelling the existing legal status of the institution, and the way that VAT, pensions and debt must be handled, is no easy task. But, having said that, it all could be sorted if there is a will to do so.
DfE is expecting to come to a decision on this matter sometime soon. My advice would be to wait and not let this be a distraction from focusing on the running of the college at the moment. Just be ready to apply if there is a positive response from DfE.