*** Hands up if you fell for it? Yes, this was our April Fool's Day 2015 prank story, and thanks to Dr Lynne Sedgmore for playing along.
Thanks too, to Martin Doel and Stewart Segal.
"We may have played a joke — some fun amid the gloom — but we are clear that  the severity of cuts facing the sector is anything but a joke," said Dr Sedgmore.
"And on a serious note we do pay homage to all the dedicated FE professionals who continue their excellent work and their commitment to students."
_____________________________
The FE and skills sector is set for its own Poet Laureate later this year with outgoing 157 Group executive director Dr Lynne Sedgmore CBE the first to take up the newly-created role, FE Week can reveal.
It is understood the post will feature in the Queen's Speech on May 27 having already been agreed as a biennial appointment.
And, in a break with Queen's Speech protocol, details of the first Poet Laureate were released today by the first incumbent — Dr Sedgmore, who is already a published poet. Her first collection "Enlivenment" was published in 2013 by Chrysalis Press.
The appointment is set to be made official with Dr Sedgmore's retirement from her 157 Group post later this year following the appointment of her successor, for which a date is yet to be set.
However, she has already penned her first poem for the role. It is entitled "A Farewell Ode to FE" and has been released exclusively to FE Week — see below to read Dr Sedgmore's poem.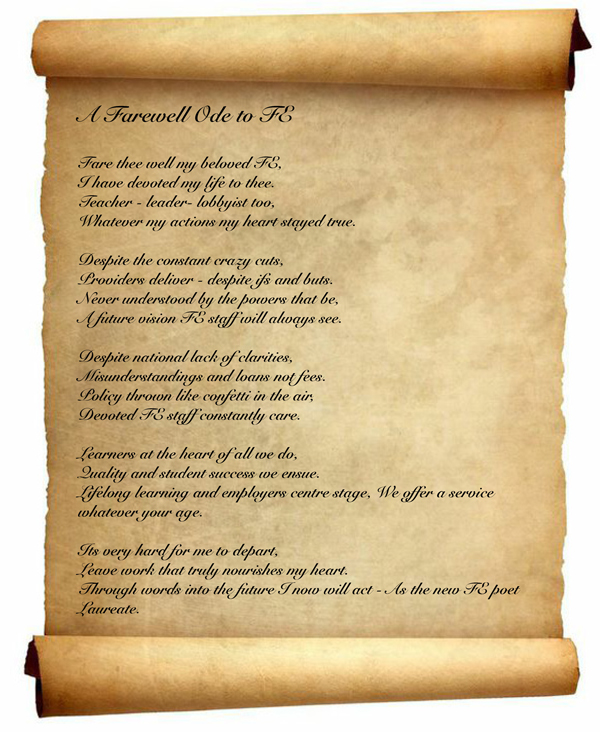 Dr Sedgmore described her appointment as "ground-breaking".
"For a sector to have its own official Poet Laureate is quite an achievement and I was overwhelmed to learn that I would be the first post-holder," she said.
"The schools and higher education sectors do not have an equivalent post and so I hope to raise the profile of FE and skills through words to heights the likes of which have hitherto never been imagined.
"This is a ground-breaking role and I hope to do justice to not only the sector but also poetry as an art form."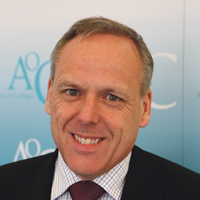 The new post, and Dr Sedgmore's appointment, was welcomed by Association of Colleges chief executive Martin Doel (pictured right).
"FE will benefit from having its own bard," he said.
"I'm sure that Lynne will be able to translate the emotional attachment that we all have for our sector into words, capturing the highs and lows of working with students, principals, governors and government, as well as other representative bodies."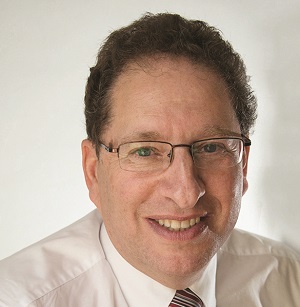 Meanwhile, Association of Employment and Learning Providers chief executive Stewart Segal (pictured left) said Newcastle-under-Lyme -raised Dr Sedgmore's poetry would be more accessible than the works of, for example, Charles Baudelaire, William Morris and Lord Alfred Tennyson for modern workplace learners.
He said: '"This is a very important appointment when we are looking at the attainment of good GCSE or Functional Skills within the context of vocational programmes.
"Nineteenth Century poetry is not enough to arm young people with the skills for today's workplace, so the Stoke Bard's take on modern life will make a huge difference to their prospects."