The founders of the new National College for Digital Skills have dropped plans to be called Code College after a small business with the same name launched legal action.
Company records show that Tom Fogden and Mark Smith, who last December received Prime Minister David Cameron's backing for their new college, had incorporated their new venture as Code College Ltd, a limited company, in November 2013. The national college is also a registered charity.
The duo also owns the web address codecollege.org.uk and used #codecollege in posts on social networking site Twitter as recently as October 26.
But David Batty, a privately-funded coding and game design trainer based in Lancashire who owns both codecollege.co.uk and codecollege.org as well as the @codecollege Twitter account, has revealed he instructed intellectual property solicitors in April after he discovered the pair were using the brand.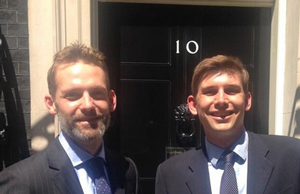 In an email seen by FE Week, Mr Fogden offered Mr Batty £3,000 for the domains, trademark and Twitter account last October, and Mr Batty claims he has since received an offer of £6,000. Mr Batty told FE Week: "I just thought they hadn't done their research at first so I asked my solicitor to send them a friendly letter to ask them to stop. Then I later found out they were following me on Twitter and that they knew all about me.
"They had also registered codecollege.org.uk which is a variation on my codecollege.org name. I did get approached by them and they wanted to talk to me. They sent an offer through of £3,000 in October. I refused that.
They sent me a further offer of £6,000 for the Code College name, my trademark, the website and the Twitter account, which was just a joke really because I have spent a long time building up the brand."
Mr Batty claims the confusion was still harming his business, because potential customers searching for Code College on the internet found media stories about the new national college and assumed they were one and the same.
But Mr Fogden told FE Week that Mr Batty had "nothing to fear" from the national college. He said: "We set up as a charity back in 2013 with Code College as a working title. We saw a website which seemed static and didn't look like it was used. We became aware of Mr Batty's Twitter account in March 2014.
"During the process of getting government support, we changed the name to the National College for Digital Skills. We do not want to be associated with the name Code College anymore. We do not want to infringe on him. That's not what we're about. He has nothing to fear."
Mr Fogden said the national college had written to Mr Batty's lawyers confirming it would no longer use the name.