Interactive media students have brought primary school pupils' monster drawings to life using animation and modelling software.
A group of 25 schoolchildren from King Edward Primary School in Mansfield were asked to draw what they thought a monster looked like, with the designs then handed over to a team of student designers at West Nottinghamshire College.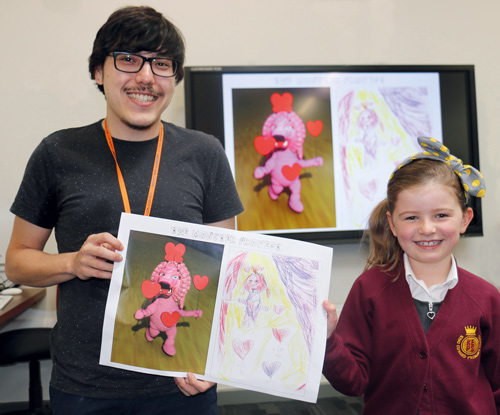 The students, who are on BTEC level three and HND courses in interactive media, spent turned original drawings into digital 3D creations and revealed them to the pupils.
Year 3 pupil Isabella Rhodes designed the Love-heart Monster, which was adopted by 26-year-old Wai Hung Tsang, who spent 15 hours bringing it to life.
Wai said: "When I first saw Isabella's creation, I thought 'what is that exactly?' – I hadn't seen anything like it before. But I began to analyse it and tried to visualise what it was going to look like in 3D form.
"I decided to turn the curly hair into a mane, and give it a sort of lion's head and a teddy bear's body, with love-heart wands in its hands. I'm pleased with how it has turned out, and even happier that Isabella has given it the seal of approval."