The chief of the Association of Colleges has publicly criticised the Department for Education for trying to reform the FE sector using civil servants who have "never been into a college".
Speaking at the first day of the Federation of Awarding Bodies conference today, David Hughes said he was "really worried" about whether the DfE and Institute for Apprenticeships had the "capacity and knowledge" to reform the sector.
He also asked the government to hire more civil servants who had been through the college system.
"Every civil servant that is working on this is fantastic," said Mr Hughes, who is himself a former senior civil servant.
"They are keen, they are eager, hardworking, they are putting a lot effort into it, but with the humility to know they don't know much about this sector and about skills."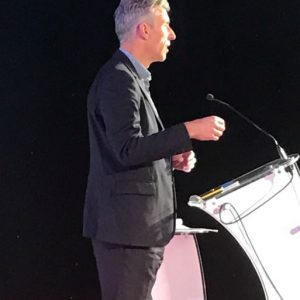 He suspects they all studied A-levels and a degree, and that "lots of them have never been into a college".
"They have been out and about visiting and we are supporting them with literally hundreds of visits to colleges," he said.
"All of that's fantastic, isn't it? But you know, come on DfE!
"Why have we got a lot in which every one of them says 'oh well I don't really know much about this'?
"Why would you do a reform programme with a bunch of people who don't know much about it? Wouldn't you try and find people who know something about it? Wouldn't you recruit from the sector which depends on it? Wouldn't you then try and set a career path, and reward programme to keep people there?"
Mr Hughes was the provider services director of the Skills Funding Agency in 2010 and 2011..
He went on to lead the National Institute of Continuing Education, which became the Learning and Work Institute, before taking over as chief executive of the AoC last September.
He used his speech at the conference in Leicester to criticise the government for rewarding civil servants' good work on FE by moving them onto other projects, thereby losing valuable experience.
"They were rewarded by saying 'fantastic, you can now leave'," he joked. "They were rewarded because they were such good civil servants they could go and do something else."
He also encouraged delegates to support T-levels, telling the conference that "we have no option but to make this work".
"What's the other option? Just to turn away from it? I couldn't live with myself, literally, if we did that because I know that there are young people whose talent and ambition is being quashed by the system," he said.
The first three T-levels were announced last week by the education secretary.
Qualifications in digital, childcare and education, and construction will be taught by a small number of providers from 2020.
The DfE's wider action plan, due to be published imminently, will set out how the new "gold standard" vocational qualifications will be developed and delivered.
"What this gives us a chance to do is to give them a real opportunity in life to advance their ambitions and aspirations and life chances," Mr Hughes told delegates.
"I think we've got to take that and we've got to work properly, honestly and with integrity with the department and with employers and with each other too."
The DfE has been contacted for comment.