Team UK has bagged an early gold medal at EuroSkills Gothenburg after Daniel McCabe came out on top in 3D game design earlier today.
The 20-year-old from West Cheshire College was the team's first competitor to finish on the final day of the competitions at around 11:30am.
He had a four hour wait until he could find out the results, and it was to be a stunning gold.
"I'm mind blown," he told FE Week moments after the announcement.
"I'm absolutely made up, couldn't have asked for anything more. I was originally not expecting to get a medal, as this was a presentation skills. When I found out they did, nerves struck, I did the best I could and my best was obviously enough. So really ecstatic."
3D game design is one of two presentation skills Team UK is taking part in at EuroSkills this year, which are being tested out to be considered for the mainstream competition at the next EuroSkills in Budapest in 2018.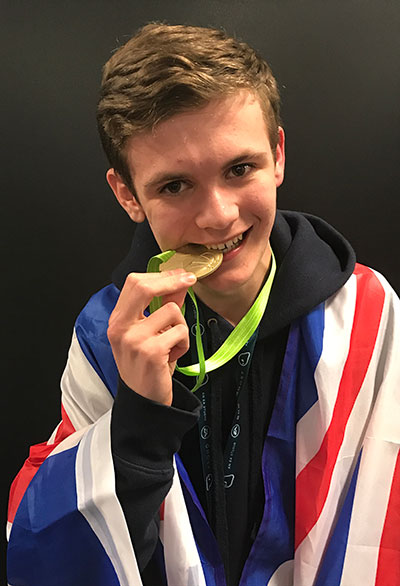 The medal was presented today ahead of the closing ceremony tomorrow as it is not counted in the official medal tally.
But Daniel said he has no doubt in his mind it will become an official skill in the future.
"It is so competitive and very intricate with what you have to know and the creativity aspect is big. This skill is going places."
FE Week spoke with Daniel as he finished his task this morning and it was evident he was over the moon with what he produced.
He said: "A car mechanic normally works on cars. Well we work on games in a similar way. I was given a BMW M2 for the Need for Speed Game.
"And we had to modify it in a similar way to how a mechanic might.
"I changed the bonnet, added new skirts and a spoiler. Basically the person who did the best job at modifying their vehicle won. With our skill it could have been anything. It doesn't have to be a car. It could have been a spaceship or building. That's why I think this skill has a lot of potential in the future.
"I definitely did the best I could, I couldn't have done better."
Team UK will find out just how many medals they have won in the 20 other skills they are competing in at the closing ceremony tomorrow.
FE Week is media partner and you can follow all the action as it happens on Twitter @feweek. Also keep an eye out for our full EuroSkills Gothenburg supplement Monday morning, sponsored by Smart Assessor.
We'll give the final word to Daniel, from our video interview below: "It is the best experience of my life."