Some of the country's most talented students in more than 50 different disciplines are currently battling it out for a place in the WorldSkills UK national finals. Reporter Billy Camden went along to a regional heat that could have been mistaken for a scene from the US TV series CSI.
An ominous looking sign marked 'Police' is stuck to the door of a forensic science laboratory at City of Westminster College — and a crowd of nervous-looking staff and students are gathered inside.
But fortunately no-one has committed a murder or attempted an armed robbery.
Instead, 21 competitors from London colleges — City of Westminster, Croydon, and City and Islington — have been tasked with searching for traces of blood and fingerprints in one of seven regional heats for the WorldSkills UK national championship in forensic science.
The competition was designed to put a "professional spin" on what students learn at college, preparing them for what life is actually like in the field.
Gary Howard, managing director at Complete Forensics, the skills competition organiser who works with sponsor Cellmark Forensics to run the activity, explained that, for example, competitors were "given a set of exhibits to search through from the theft of a motor vehicle".
They had to assess those exhibits and "see if they were packaged suitably, if they needed repackaging, and what further forensic testing could be completed on them".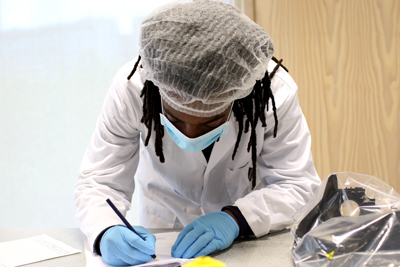 One of the competitors, Alexandra Morar, aged 17, from City of Westminster College, told FE Week: "We are putting our knowledge from the classroom into reality. When you watch CSI, it is a lot different to what it is in real life, so it is good to get the opportunity to try it here."
Another, Eden McWilliams, 18, from Croydon College, added: "I think it would be awesome to take part in the nationals going up against other students from across the country."
Everyone was given an hour-and-a-half to examine 10 exhibits. They had to look for correct packaging, correct use of chemical treatments, and fingerprint powders.
Competitors then identified any exhibit that needed to be sent forward for DNA or other analysis, before taking the evidence over to a forensic laboratory.
The yet-to-be confirmed winners, those who scored the most points, will compete in the national finals.
Renal Stewart, 17, from Croydon College, said: "For me this was a real step up compared to our college work. I'm feeling confident but don't want to get my hopes up too much."
WorldSkills regional heats are held between April and August, and see more than 2,000 learners and apprentices compete in 57 different disciplines.
The eight highest-scoring competitors from each skill are then invited to compete in the national finals taking place at the Skills Show, from November 17 to 19, at the NEC in Birmingham.
Of the 57 skills, 35 are eligible for WorldSkills Kazan 2019.
The forensic science discipline is not taken to the world stage — Mr Howard said competing in the national qualifiers and finals would be hugely beneficial for wannabe scientists.
He said: "Taking part adds something extra to their CV. It says 'I've put myself forward and I'm not scared to get outside of the box'.
"The process helps them mature as students as well. Employers are now looking at the competition because they know it is challenging and supported by the industry."
Main picture: From left: Renal Stewart, aged 17, Eden McWilliams, 18, Karolina Bugajska, 18, and Alexandra Morar, 17, at the forensic science national qualifier at City of Westminster College