In an effort to encourage more students to move on to higher education, Walsall College has been running 'Cooking on a budget' workshops to prepare them for university life.
Learners have been taught how to become self-sufficient in the kitchen by making easy meals such as pasta dishes and Chilli Con Carne, and attendees were presented with a cookbook of affordable recipes at the end of the session.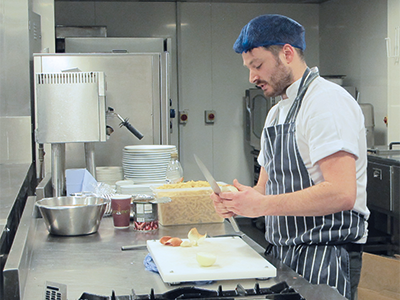 Led by the college's hospitality and catering lecturer Chris Sammons, the workshops also covered how to shop on a budget, hygiene in the kitchen, and the correct way to store and freeze food.
The workshops were part of the college's 'Aspire to HE' programme, which aims to support the government's goals to increase the number of young people pursuing higher education routes by 2020.
"Living independently and budgeting for food is a large part of university life," said Vivien Russell, the college's progress coach for Aspire to HE. "The workshop was chance to prepare students for some of the challenges and opportunities of living on a smaller budget, whilst being able to prepare healthy and tasty meals."