Does CPD really lead to benefits on the 'front line'?
The worlds of education and business are evolving. Educators must keep up if young people are to find rewarding careers, so that employers can recruit the talent needed to drive performance and improve competitiveness. It is this 'skills edge' that will help the future economy to thrive, attracting inward investment so that the UK can compete better globally. WorldSkills UK is working as part of the WorldSkills international movement of over 80 countries driving up standards worldwide and promoting future workforces that will serve young people, employers and communities, improving social and financial mobility around the world.
WorldSkills UK has developed a suite of CPD sessions called, 'Developing excellence in teaching and training', developed in partnership with ETF and applicable across a wide range of curriculum disciplines, based on our experience at the cutting edge of professional development. Held on 1 and 2 February, this event will draw on WorldSkills UK's insights from international competitions, best practice exchanges and standard-setting for curricula.
Using knowledge from national and international experts across a wide range of skills and streamed via an interactive online platform, the sessions will support you and your colleagues in developing your knowledge, understanding and skills as well as those of your students and apprentices.
By taking part, you'll help move your learners from competence to excellence, learn more about the latest advances in learning technology, and examine how to support learners from underrepresented groups.
I want to do more CPD but how can I fit it into my busy schedule?
You can opt into just one session or as many as you like. Opting into a minimum of two during the live stream you will receive a digital credential to share with your networks and incorporate into your portfolio. All content will be downloadable after the event, so you can revisit or share the link with colleagues.
What's available?
Tackling underrepresentation in technical and vocational education:
Gain a greater understanding of how to overcome social constructs that create barriers to inclusion.
Engaging learners through participation:
Appreciate with reference to specific technological solutions, how to engage learners in a range of scenarios typical in technical education.
Extending learning through artificial intelligence:
Understand with reference to specific technological solutions, how to promote and support greater accessibility and inclusion in vocational learning.
Enhancing learning through real simulators and virtual reality:
Understand the learning and business value of developing simulator training solutions.
Practical applications for achieving excellence with learners:
Understand WorldSkills UK's seven step pedagogy cycle and related activities for use in a classroom or workshop environment.
Using world-class standards to enrich curriculum planning and enhance learner achievement:
Understand what WorldSkills occupational standards are and what their purpose is.
Competition activity as a method of raising learner aspirations and outcomes:
Experience the benefits of engaging in skills competition activity to individual learners, institutions and businesses.
Coaching techniques for supporting learners in developing effective behaviours and attitudes:
Learn coaching methodologies for supporting learners to achieve excellence.
Effective curriculum delivery to support meeting the needs of industry and net zero:
Gain insight into international best practice at reducing waste and increasing sustainability across vocational skill areas.
How do I book my free place?
Simply register with our quick-to-complete form and you're ready to go.
Will I get an accreditation for taking part?
WorldSkills UK will award a digital credential to all those who attend two or more sessions, but we're sure you'll want to stay longer.
This verified digital credential demonstrates your commitment to professional development and embedding world-class practice into your teaching and can be shared across your professional networks including LinkedIn, bios, and CVs.
Who's behind the programme?
To produce the programme, WorldSkills UK has partnered with the Education & Training Foundation (ETF), the workforce development body for the Further Education and Training sector. ETF works in partnership with others to deliver professional learning and development for teachers, trainers and leaders to improve education and training for learners aged 14 and over. The Society for Education and Training (SET) is ETF's membership body, dedicated to professionals working across further education, vocational teaching and training.
We are also grateful to our session partners, the Skills and Education Group, Autodesk and Electude.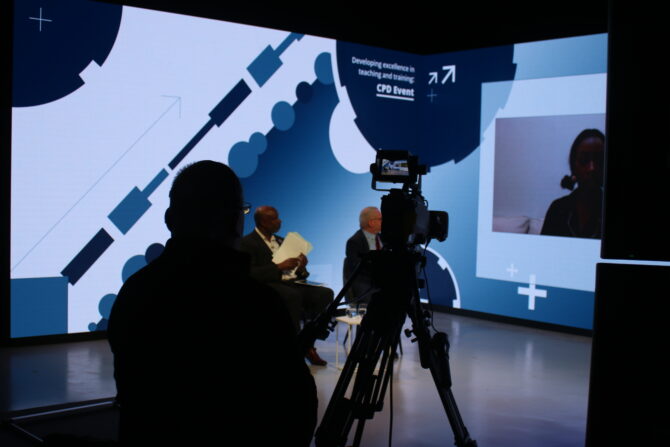 What other opportunities are there to enhance my teaching practice?
Competition-based training programmes: Each year, over 3,500 students and apprentices across England, Scotland, Wales and Northern Ireland hone their technical skills in our competition-based programmes, as well as the personal skills that employers look for when recruiting young people, such as communication, planning, teamwork, self-reliance and resilience. 97% of competitors in our National Finals say that taking part has improved their technical skills, and 93% felt their self-confidence had grown. We can help you embed competitions in your teaching to encourage your students to take more responsibility for their own development and to be more aspirational in developing their skills. Applications for the 2023 competition are accepted from 27 February until 24 March 2023 and it's free to enter and take part.
Those competitors making it to the National Finals have the chance to win medals as an endorsement of their skill level. They also have the opportunity to be selected for Squad UK, from which Team UK is drawn to compete on the global stage. In the WorldSkills Special Editions in 2022, the UK scored gold medals in aircraft maintenance and cabinet making, plus bronzes in Industry 4.0, jewellery making, and car painting. Half of Team UK also achieved medallions for excellence, indicating they had reached WorldSkills' international standards of excellence. The UK achieved a top ten place overall, up two places from the last international competition in Kazan, Russia, and ahead of countries including Spain, Singapore, Australia and Canada.
While winning medals is important for the participants and their colleges and employers, the benefits of the training programme for them and other members of Squad and Team UK can't be overestimated as they return to the workforce with improved technical and employability skills, becoming valuable role models for their peers by passing on the skills they have learned, so that the benefits of training are cascaded through the workforce.
Learning Lab: WorldSkills UK's Learning Lab is a new online space and resource centre which provides free access to world-class skills development tools and resources for all.
Content is built on WorldSkills UK's insights into international best practice, supporting educators to supercharge both their professional development and teaching skills and equipping them to boost student learning and develop world-class skills.
Easy to navigate, the Learning Lab offers a wide range of teaching tools and resources, from advice on careers education to mindset masterclasses, based on world-class practice from the world of elite sports training and development. Fresh resources will be continually added over time.
Careers Advice Toolkit
Mapped against the Careers Development Institute, Skills Builder and Gatsby Benchmark Frameworks, the Careers Advice Toolkit empowers young people to explore excellence within technical and apprenticeship career pathways. With inspiring bitesize content, the Toolkit can be used flexibly to support independent online learning, as well as any careers curriculum, delivered in the classroom or virtually.
Spotlight Talks
Designed to fit within lesson timetables, the Spotlight Talks video series brings together leading businesses and services to demonstrate young professionals sharing their own career journeys and what it takes to succeed in their sector. The next Spotlight Talks are in spring 2023 and we encourage viewers to pose questions directly to the presenters. All Spotlight Talks are available for download afterwards, so your students and apprentices don't miss these inspiring and informative sessions. Check out existing downloads here.
Future programmes
We're committed to continuing to provide educators with high-quality, free to access CPD opportunities. If you would like to be kept informed of new live and digital opportunities that can fit in with your timetable, email us at: getintouch@worldskillsuk.org
View 2023 sessions here