This is the man with the daunting task of implementing a new cross-government IT system for large employers to pay into the proposed apprenticeship levy — and he's got to do it in just 18 months.
In an exclusive interview with FE Week, Cabinet Office Minister and 'earn or learn' taskforce chair Matthew Hancock opened up on just how far officials have to go in designing the new system that will determine and track levy cash revenue on one side and pump out digital apprenticeship vouchers on the other.
The architect of Traineeships also discussed how he saw the youth unemployment programme just over two years after it was launched in a wide-ranging interview that goes on to touch upon his taskforce, Trailblazer apprenticeship standards and that 'half-cock' comment from his Skills Minister successor, Nick Boles.
---
Scale of apprenticeship levy IT task emerges
The government is yet to make a start on designing an IT system to track large employer payments into a proposed levy despite the fact it would need to be in place in just 18 months, FE Week can reveal.
But Cabinet Office Minister Matthew Hancock has been charged with overseeing the development of the system and he told FE Week that it would be done "properly".
"We've got to settle the full details of the policy first," he said.
"But I'm now responsible for digital implementation across government, so believe you me it will get the attention it deserves."
But while a Department for Business, Innovation and Skills consultation on the levy proposals closed earlier this month, the government has already said it wants the system in place in 2017 — and has tied it closely to the planned new digital apprenticeship voucher.
Indeed, the levy consultation document said: "Government intends for employers to have an online "voucher account" where they will be able to see their levy contribution and the digital vouchers that they can use to purchase apprenticeship training.
"The amount in an employer's individual voucher account available for apprenticeship training will be dictated directly by the amount levied from the employer by HMRC."
It added: "This would be part of a broader digital system that enables employers to advertise vacancies, search for applicants and engage registered providers to provide training for their apprentices."
But memories of the botched data collections and funding transformation programme, in which among other issues a new funding information system produced inaccurate reports, from largely under his watch while Skills Minister will still be fresh in the minds of many in FE.
Nevertheless, Mr Hancock also told of his determination that the IT system would be worked out "properly".
"You can only work out the full figure once the policy details are set, but we're going to do it properly," he said.
SEE EDITOR'S COMMENT BELOW
---
Hancock on…
Traineeships
We set out what we were trying to achieve with Traineeships at the start, which was to make sure people who aren't yet quite ready to take a job can get into a job, and can get the training that they need, the work experience and the English and maths.
So the key is to learn from where the people who have been on them have ended up, that's what really matters, and the value for money that we get from the taxpayers' point of view too.
Similarities between Traineeships and new "activity programmes"
The intensive activity programmes are about making sure that if somebody's unemployed and signing on, then they get the intensive support within the jobcentre in the first instance, aimed very much at the skills needed to get through an interview and the support you need there. There isn't the English and maths element. Where needs differ, so too should the support that people get.
Apprenticeship reforms and Skills Minister Nick Boles's claim that the first round went off "half-cock"
It was a choice phrase. Nick and I work very closely together. We're old friends from before either of us went into Parliament and I think he's doing a magnificent job, so there's no way you'll get an inch of paper between us on policy issues. I take it with a grin on my face.
On the substance of it, the levy proposals are different from the original PAYE proposals. I think, actually, they're a better set of proposals and the only regret I have about them is that I didn't come up with the idea myself.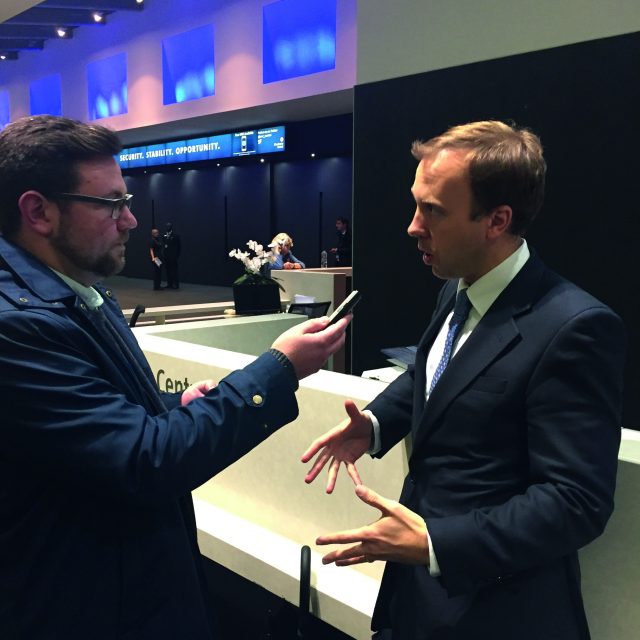 Number of new apprenticeship standards
I remember those early days of re-writing the frameworks when we gave the pen to employers and said: 'You write down what you need people to be able to do'. And in some cases they were astonished that we didn't then take the pen back and we said: 'No really, we want you to write it'.
There's a large number of occupations in the economy and apprenticeships need to reflect the economy if they're going to reflect the economy.
Should the Skills Funding Agency and Education Funding Agency should merge?
There's all sorts of ways you can organise a government in order to deliver, but I think it's very important to stay focused on the needs of young people and we can get too tied up with bureaucratic design.
Decisions of the taskforce
The decisions of the task force are announced through the ministers who sit on it. So the purpose of the task force is to bring together the different departments and ministers who are involved in delivering this agenda.
Life without Sir Vince Cable
I always had a very professional relationship with him. He was always very straight-dealing, he was a strong supporter of the skills agenda. But there were things we were unable to do.
We were unable to be as clear as we now can be that all young people under the age of 21 should either be earning or learning, and to deliver that you need both support for training opportunities but you also need very strong incentives in the benefits system.
That's something we weren't able to deliver, that's something we now can and I hope that leads to a further fall in youth unemployment.
Young people and apprentices won't benefit from the new living wage
People gain experience through time and people are inevitably, on average, less experienced when they are younger.
We've put up the apprentice minimum wage very sharply. It was much lower. And we decided to put it up. So it's gone up to over £3 an-hour. It was £2.65 when I was apprenticeships minister.
Let's be clear, there is a good reason that there's an apprentice minimum wage that's different to the national minimum wage and the new national living wage that's coming in. When you're an apprentice you are learning and earning at the same time but you're learning and that's why the wage is lower to reflect the fact you're training on the job.
---
Editor's comment
Action man given mission impossible?
It seems very obvious that Matthew Hancock, the man of action when it comes to 'digital implementation across government', has been given an impossible mission.
If the government deadlines are to be believed, they have less than two years to develop, test and roll-out a new online apprenticeship payment and funding system.
The history of problems with the current intermittently available SFA apprenticeship funding system, which took three years to develop, have been well documented on these pages.
Yet the current system is child's play compared to one that will need to accommodate hundreds of thousands of time limited employer levy payments via the Treasury, millions of online apprentice voucher applications and many more millions of individual payments to employers, colleges and training providers.
So my advice to the minister is simple.
Commission a feasibility study from some relevant technology experts who know they won't gain financially from developing the new system.
I suspect the study would conclude, regardless of development costs, that the timescales are too tight and the risk of failure too great.
More time is needed, alongside carefully considered action, else this movie genre will quickly switch from fantasy to disaster.
Chris Henwood
FE Week editor
chris.henwood@feweek.co.uk
 Main image above: Bloomberg