The government has insisted "quality" was a factor in choosing 21 colleges to share £40 million funding as maths centres of excellence after concerns over their achievement rates.
The centres for excellence will test and disseminate new ways to improve the teaching of maths to learners who are resitting maths GCSEs, and will share the cash over five years.
The chosen colleges were revealed last week, but eyebrows have been raised over some pass rates at the selected institutions.
According to the Department for Education's official data for 2016-17, the average A*-C pass rate for general FE colleges was 24.8 per cent, and 39.4 per cent for sixth-form colleges.
However, four colleges and two sixth-form colleges that have been selected as centres for excellence have pass rates below the average.
 All six had an A*-C pass rate of less than 25 per cent, with Leyton Sixth Form College in east London at the bottom of the table at just 12.8 per cent.
It is followed by Leeds City College on 17.3 per cent, Tameside College on 18.4 per cent and Christ the King Sixth Form College in south London on 19.2 per cent.
Two college groups – Greater Brighton Metropolitan College and Newcastle and Stafford Colleges Group – also came in below average, at 24.2 and 24.3 per cent respectively.
A DfE spokesperson said all colleges picked for the programme "passed the necessary eligibility criteria and were selected based on their leadership qualities, networks in the sector and the quality of their proposed approach".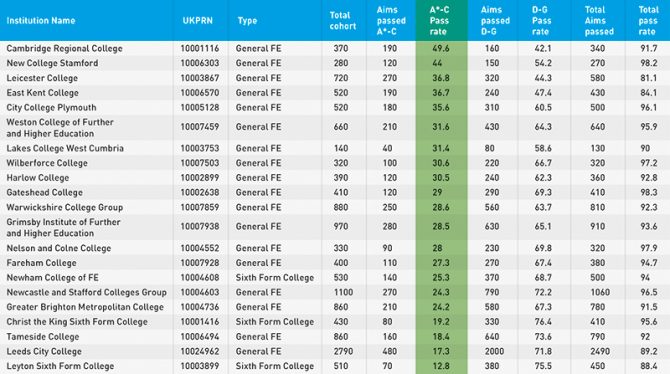 FE Week was told the eligibility criteria included the quality of proposed teaching approaches, student support, maths "credibility and capacity", leadership and networks.
Gill Burbridge, principal of Leyton Sixth Form College, said the A*-C pass rate was so low because they enter all learners for GCSE resits "regardless of their prior achievement", and pointed to their high progress rates.
"We still have work to do to get more students on higher grades, but that's part of a national issue and that is what this funding is part of addressing," she said.
"We are really thrilled to have been given this opportunity. At a time when we are significantly underfunded in terms of base funding, to be able to access some additional funding to work on a priority area like GCSE maths is really good, and a real opportunity for the young people here and in the organisations we work with."
Louise Turner, director of academic support at Leeds City College, also said their focus was "progression", and added: "We focus on liberating students from the pressures of believing that only high grades count."
 Progress scores do not always fully reflect the achievements of learners at FE providers, as those who cannot sit exams are automatically given a negative score.
Paul James, deputy principal for curriculum and quality at New College Swindon, said he was concerned about institutions without strong outcomes getting the badge of "centre for excellence", and said the sector must "commit to clarity about our own performances".
"I wonder how long it will be before the successful colleges start branding themselves as centres for excellence for maths in marketing materials," he said.
"The title is value-laden and has the potential to significantly miscommunicate the institution's position in respect of the challenges they are facing.
 "Many applicants will rely on word of mouth, local marketing and reputation to make judgements, and in this respect I worry the centre for excellence may mislead."