Employers are cancelling T-level industry placements and providers are finding it increasingly challenging to find alternatives, new research has found.
A survey of 32 of the 44 providers due to teach the first T-levels in just six weeks' time was conducted by the National Foundation for Educational Research (NFER) earlier this month.
The results, supplemented by a follow-up webinar that included government and sector body representatives, have been published today and show that around a third of the providers are ready for the substantial industrial placement component 'to a small extent' or 'not at all'.
Securing enough industry placements of at least 315 hours was arguably already the most significant challenge threatening a successful T-levels rollout, but this has been exacerbated by Covid-19.
Due to the pandemic, employers are "cancelling or not committing to placements and providers need to seek out new opportunities", the report states.
One unnamed provider said: "Providers are most worried about industry placements. They feel that in many cases they are going to need to create new partnerships with employers because the pipelines they have been creating for the past two years are now seriously damaged by Covid."
Just after the research took place in early July, the government announced a "package of support" which included employer cash incentives of up to £750 per T-level placement, with a maximum of ten learners per business.
The NFER said it will be "interesting to see whether this will make a difference to employers when deciding whether or not they are able to take T-level students on placements".
The first T-level routes to be rolled out from September 2020 will be in construction, digital and education and childcare.
Providers reported that digital continues to be the most challenging route for finding student placements. 
This is due to the "large number of micro and small businesses" in the sector, and to employees "sometimes being required to work from home which is not usually a suitable arrangement for placement students".
Providers also noted issues in terms of delivering education and childcare placements which have arisen as a result of Covid-19.
Placements in this route will total 730 to 750 hours – in line with sector norms – which does not allow for placements to be shifted to later in year one or into year two of the T-level, when the economy may have started to recover.
While most providers said they were "optimistic" about student recruitment from September, digital was again "a cause for concern".
Just less than three-quarters of the providers responding to the survey reported that applications at this stage are 'less than expected' for digital, whereas for education and childcare and construction the majority of providers reported that they are 'more than expected' or 'about the same as expected'.
There are a number of reasons for the recruitment challenges in digital, which existed prior to Covid-19, according to the report.
These include the "degree of specialisation and 'niche content' of the qualification, it containing new and untested content which makes it difficult to market".
There is also "felt to be an issue" in young people's "understanding of the careers available in digital as they are not visible, front-line jobs, they [students] might not know people who do them and they are not well-established jobs".
The struggle of recruiting T-level students and finding enough industry placements has been heightened a by the lack of face-to-face contact providers could have with schools and employers during to the pandemic, as well as the pause in the government's £3 million NexT Level marketing campaign, as revealed by FE Week earlier this month.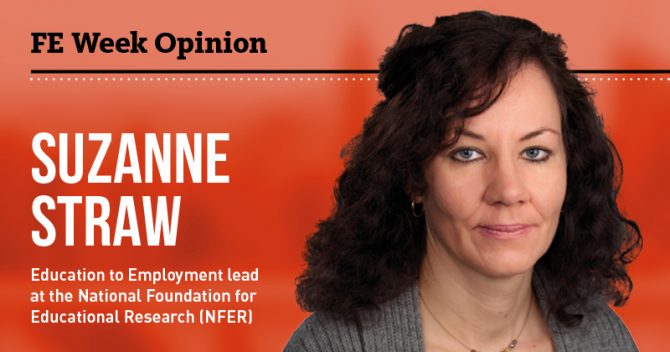 The campaign, which was blocked by the Cabinet Office to ensure government-wide communications focused on an immediate Covid-19 response, is now back underway and providers are hoping the effort will be "ramped up".
What may also come as a concern to the sector is that the NFER's research found that some providers are turning off "competing" qualifications, such as BTECs and other applied generals, to increase T-level recruitment.
"Some providers have, for example, decided to replace their level 3 childcare provision with the T-level," the report said.
"As one provider commented: 'We are confident about recruitment because we are not offering a non-T-level alternative'."
Concerns have previously been raised that the government's plans to withdraw funding for thousands of applied general qualifications including BTECs is manipulation of the market to ensure T-levels are a success.
A Department for Education spokesperson said: "Industry placements are at the heart of our pioneering new T-levels and will give young people first-hand experience of the world of work and the opportunity to develop the skills that employers need.
"We are really pleased that the vast majority of 2020 providers remain on track to deliver T-levels from September. We are working very closely with T-level providers to identify challenges, and will continue to monitor the impact of Covid-19 throughout the autumn term and whether further support is needed."