– Apprenticeships account for less than 5 per cent of Adult Skills Budget for some large FE colleges
– AoC says colleges 'see significant role' in hitting 3m target and should 'start planning strategic response'
The college sector's performance on apprenticeships has come under attack after exclusive FE Week analysis uncovered budgets with as little as 2 per cent allocated to the programme at the heart of the government's economic strategy.
Skills Funding Agency figures obtained under the Freedom of Information Act revealed startlingly low levels of apprenticeship delivery at many colleges — and particularly in London.
Colleges, on average, have 27 per cent of their 2015/16 Adult Skills Budget (ASB) allocated to apprenticeships, FE Week found, compared with 60 per cent at other providers.
But the college figure varies significantly across the country, with London colleges averaging just 12 per cent.
Ian Cass, managing director of the Forum of Private Business, which represents more than 25,000 small and medium-sized businesses, called the figures "worrying", adding that "it suggests that there is a bias against apprenticeships".
Given the "very real need" for apprenticeships, said Mr Cass, "we would argue that FE colleges are failing in their duty of care to their students if they do not give them the skills needed to get work in the real world".
Teresa Frith, senior skills policy manager for the Association of Colleges (AoC), said colleges had "always been about more than apprenticeships" and were "working hard" to respond to changes in government policy.
However, nationally, 11 colleges (see table below) have set aside less than 5 per cent of their ASB on apprenticeships. Among those with the lowest set out for apprenticeships was City and Islington College, where just 2 per cent (£202,787) of its £9,733,513 ASB will be spent on apprentices.
The college declined to comment, but ministers will be unimpressed by the figures with the government pushing to hit its 3m apprenticeships target for this Parliament.
Indeed, the Department for Education is thought to be looking at ways to get more 16-year-old vocational learners onto one-year courses and then into apprenticeships. And just days ago, Prime Minister David Cameron said he wanted "either apprenticeships or universities for almost everybody".
Meanwhile, funding for the programme is expected to be protected in the Comprehensive Spending Review this month, as it has from other funding cuts this year, leaving the remainder of the ASB on the chopping block.
There are, according to the information supplied to FE Week, 25 general FE colleges whose 19+ apprenticeship allocation represents less than 10 per cent of their 2015/16 ASB allocation.
Ten of these, six of which are in London, have a combined 16 to 18 and 19+ apprenticeship allocation of less than £500,000 for 2015/16.
Ms Frith said: "Colleges take their roles very seriously and are working very hard to keep up with and respond to the significant changes that are being made at national policy level around apprenticeships, devolution and funding.
"Colleges have always been about more than apprenticeships and we know that colleges deliver a higher percentage of the Stem subjects and higher level apprenticeships than other providers.
"A college's response to apprenticeship reform has to be made within the context of the full mix of the education and training they provide and so it is not surprising to see no direct results as yet.
"The precise detail of some of the more significant elements of the reform is not yet known, so colleges should not be expected to be implementing plans. However, colleges should start planning their strategic response to the reforms that impact on their provision, including apprenticeships.
"While colleges did not set the target of 3m apprenticeship starts, they do see a significant role for themselves in supporting its achievement, but they must balance this against the needs of their local business communities and students."
A spokesperson for the Department for Business, Innovation and Skills said: "Colleges play an important role in the delivery of apprenticeships and we continue to work with them to reach our ambition of 3m apprenticeships by 2020."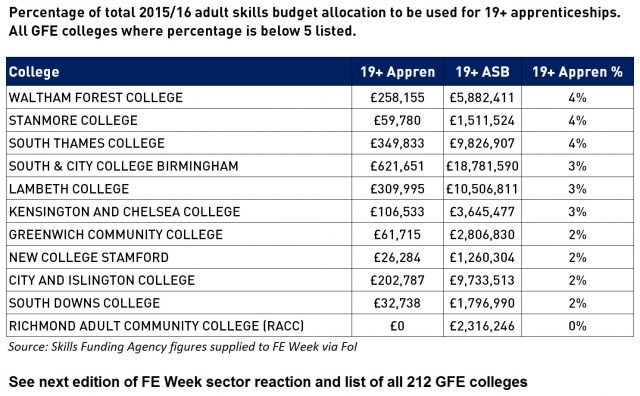 ---
Editor's comment
Apprenticeships or bust
It is widely feared the Adult Skills Budget (ASB), which includes apprenticeships, will be slashed by at least 40 per cent in the upcoming budget.
Apprenticeships will be protected, so on current allocations it would require a 68 per cent cut to the non-apprenticeship delivery to find the 40 per cent saving.
Let me rephrase that. Colleges doing little or no apprenticeships would see their ASB cut by a whopping 68 per cent.
These colleges must surely quickly expand their provision and take advantage of the new bi-annual Skills Funding Agency apprenticeship growth requests?
Time will tell if the apprenticeship reforms help, but it may also be running out as the cuts and area reviews close in.
Act now colleges, before it's too late.
Chris Henwood
chris.henwood@feweek.co.uk