England's colleges are showing signs of turning a significant corner in their Ofsted performance.
Seven have managed to dig themselves out of failing grades in the early part 2017/18 – where none managed the same feat during that period last year.
Frustratingly however, this success will not be recognised in the education watchdog's imminent annual report, which will only discuss inspections published up to the end of 2016/17, and which is expected to describe a huge decline in standards.
Just 69 per cent of colleges were rated 'good' or 'outstanding' by August 31, FE Week analysis revealed.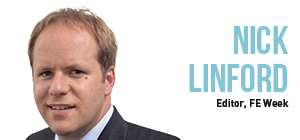 This represented a fall for the third year running for schools and colleges in the measure Ofsted effectively considers its minimum acceptable standard.
Now, though, FE Week's analysis of the 12 full college inspections that have been published between September and November shows that eight have improved their grades: seven increased from 'requires improvement' to 'good', and one has moved from 'good' to 'outstanding'.
Three more declined – two moving from 'good' to 'requires improvement' – while one stayed the same.


This represents a massive upswing in college performance; of the nine of the colleges that had full inspections published in the same period in 2016/17, six saw their grades go down and three stayed the same.
In other words, not a single one improved.
If Ofsted were to consider the full inspections published so far during this academic year in its annual report, the proportion of colleges rated 'good' or 'outstanding' would sit at 72 per cent, higher than it was in last year's report (71 per cent).
A spokesperson for the inspectorate said nothing had changed in terms of its inspection arrangements, and said it couldn't draw any meaningful conclusions for why the improvement had been so substantial.
Two of the colleges that went from a grade three to a two – City of Liverpool and Richmond-Upon-Thames – have been subject to interventions from the FE commissioner since their previous inspections, which is likely to be one reason for better performance.
The five other colleges – North Hertfordshire, Wirral Metropolitan, Grantham, Burton and South Derbyshire, and Suffolk New College – however, have had no obvious support or intervention from the government.
David Russell, the chief executive of the Education and Training Foundation, said the noticeable surge in colleges' Ofsted grades in recent months was "great news".
He told FE Week there was a "large number of complex factors" which interact to create national patterns in Ofsted grading, but it seems "implausible" that the recent improvements are entirely unconnected to the "high-quality programmes" his organisation has been running over the last four years, such as CPD training.
This shock upturn in performance is welcome news after last month's analysis showed that colleges are lagging considerably behind sixth-form colleges and independent learning providers.
Of these, 81 per cent were rated 'good' or 'outstanding' by August 31, a massive 12 percentage points ahead of colleges' 69 per cent.
The slump had continued an annual trend which has seen the number of high-achieving colleges fall by 10 per cent in just three years, after a high of 79 per cent in 2014.
The findings backed up chief inspector Amanda Spielman's comments to the education select committee in October, when she admitted that colleges "have the biggest funding challenge" and said Ofsted had seen "disappointing outcomes" in FE.
Colleges are dealing with "an enormous amount of work" and "a big challenge" as they face "reforms in practically all areas", she told MPs.
Ofsted confirmed FE Week's findings this week in an official statistical release for FE and skills inspections and outcomes.
It pointed out that during 2016/17, there were twice as many colleges that declined to 'requires improvement' or 'inadequate' (18) than improved to 'good' or 'outstanding' (nine).
The proportion of colleges with a grade two or one declined by two percentage points, from 71 per cent in August 2016, to 69 per cent in August 2017.
This decline would have been greater if the colleges that officially closed as a result of a merger had been included.