A host of UK colleges are hoping a new initiative in India will allow them to capitalise on their FE expertise. A number of senior management members made the journey east for its launch and were joined by FE Week editor Nick Linford and reporter, Shane Mann.
On first hearing that 30 FE colleges were to have a permanent presence in India I was intrigued. I asked myself, is there not enough of a challenge educating learners and supporting employers during tough economic conditions in the UK? Why use precious resources chasing contracts in unfamiliar countries, where many have tried and failed before?
And was Sir Michael Wilshaw, the chief inspector for Ofsted, right to ask in his first speech to FE colleges, if international work is a distraction from the urgent need to raise the standards of teaching and learning for our own learners?
My next question was whether it was worth the time and financial cost of flying to India with FE Week colleague Shane Mann to find out. That was easy to answer — yes.
AoC [Association of Colleges] India is an important development in FE. It is a story we couldn't possibly do justice to from our office in London.
For this reason, we have produced a supplement, in partnership with NOCN, on the development. It starts by introducing you to the colleges taking part (31 at the time of going to print), each one investing £20k for a two-year membership to AoC in India.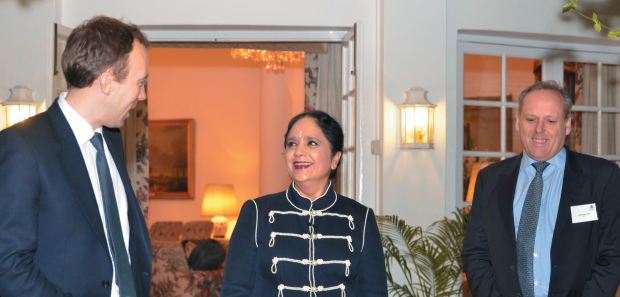 We then introduce you to Sannam S4, the consultants with the contract from AoC India to be the eyes, ears and representatives on the ground.
Next up comes interviews with the chair of the group, Asha Khemka OBE, and project director John Mountford.
Further education Minister Matthew Hancock was also visiting India seeking opportunities, learning about India's plans to train half a billion people by 2022 and, as a Parliamentary cricket team member, quite reasonably taking a spectator seat for the one-day international between England and India in Changralat.
We were granted an exclusive interview with the minister en route the official launch party for AoC India, held at the UK High Commissioner's residence in New Delhi.
As reported in the last edition of FE Week, AoC in India is by no means the first nor the only FE college venture into the Indian education market.
What struck me was that by clubbing together the colleges have chosen a relatively low risk form of investment. The use of an Indian market entry specialist firm makes a lot of sense. Sannam S4 is well-placed from New Delhi to quickly spot a good opportunity from an unrealistic or poor one. They have also already made impressive headway in arranging meetings with the relevant Indian agencies.
The challenge now will be not just to convert ambition into returns on investment, but also dealing with the tricky operational and strategic issues, presumably familiar to all new partnerships made up of competing businesses.
I also attended the official opening of New College Nottingham's International Lifestyles Academy, to which its East Midland parent college is contributing curriculum design and quality assurance.
Finally, as for my most unexpected experience in India? That was being invited to stay for dinner after the AoC in India launch and being told by the ambassador's wife that the apples in the crumble were a gift from the King of Butan.