This year's "blizzard of changes" will not stop the Association of Colleges pushing for progress over the coming months, new chief executive David Hughes has told a packed audience in his key note speech at this year's annual conference.
Mr Hughes acknowledged that the FE sector had faced the challenges of Brexit and the appointment of new ministers – but the new chief executive, who took up his role in September, remains "optimistic".
He reassured conference delegates that "colleges really are vital to our economy and out society", adding "it's time to be confident about our place in the education system and ambitious for the three million people we serve".
He also highlighted that there will be a review of the AoC during the conference.
"We must be more transparent and engaging … much more ambitious and confident in what we are asking for", he said.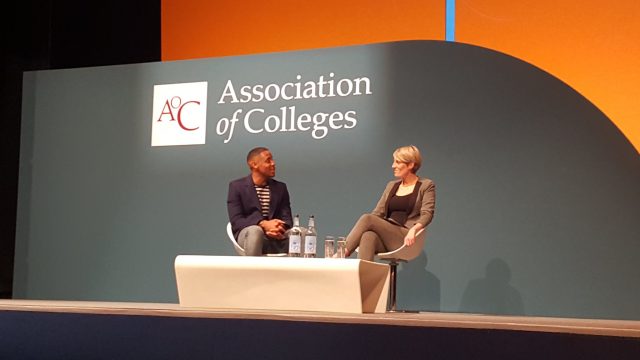 Mr Hughes said he believed the new education secretary Justine Greening and skills minister Robert Halfon share "a passion for this sector", and told the audience that now is the time for colleges to "be in the spotlight".
"I think we're in a position to be listened to probably for the first time in years," he added.
However, he made it clear that he thinks the state of funding for FE is still unacceptable, describing the current system as "grossly unfair".
"We need to keep putting the case for more funding for our sector," he said.
He also spoke about problems in English and maths teaching and the impact this has on the FE sector, with colleges "taking the brunt of a system that doesn't work until 16 and doesn't work after that".
Mr Hughes said the AoC will "open up a consultation in the next week or so" and is asking college leaders for "your experiences of English and maths".
"You want to be working with us to be setting the agenda," he said to the audience.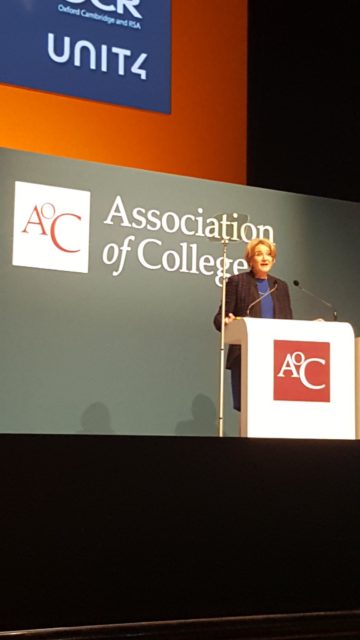 The introductory session of the AoC 2016 conference at the ICC in Birmingham also featured speeches from Carole Stott, chair of AoC, and Reggie Yates, AoC gold award winner, broadcaster and former FE student.
Ms Stott welcomed the full hall to the conference and spoke of the importance of FE.
"We are a primary route to success for millions of people," she said.
Mr Yates spoke enthusiastically with host Steph McGovern about his own experience of FE, and the positive impact that his time at City and Islington College had on his 26-year career in broadcasting.
He also commented on plans to do more mentoring in the New Year saying that working with AoC on this project would be "fantastic".
He advised college leaders to "invest in the individual not in the whole", adding "no two people have the same dream".