The college involved in a FE loan scandal has agreed to pay the cost of the debt in full, hours after it was exposed by FE Week.
The investigation found 13 alleged victims of an advanced learner loans scandal were still being told that they must repay thousands, despite some claiming they did not know they had signed up to the course or had never received training.
The course was subcontracted to Edudo Ltd by West London College in 2015.
One victim, Grzegorz Bogdanski, 34, was being forced by the government to repay a £5,421 loan for an NVQ in Wood Occupations as the Student Loans Company (SLC) said their records showed that "the learning provider confirmed his attendance on the course".
"It is brilliant. I'm still buzzing."
Karen Redhead, who took over as principal at West London College in September 2018, told FE Week she had spoken to the SLC this morning and confirmed the college would pay off Grzegorz Bogdanski's loan.
She said: "I spoke to the SLC this morning and passed the names of all the learners [FE Week] sent to me with an instruction that the college would repay the loans." 
Bogdanski was overjoyed when he received the good news: "She told me not to worry about the loan, all the loan will be written off.
"It is brilliant. I'm still buzzing."
Bogdanski said he thanked FE Week "from the bottom of my heart".
Redhead added she had spoken to six of the victims of the loans scandal.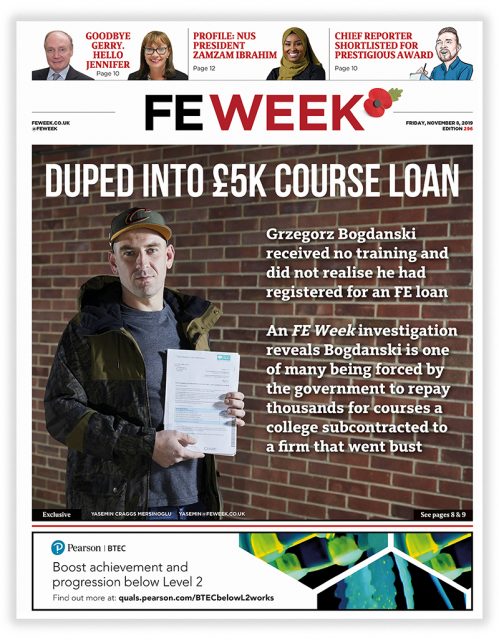 FE Week liaised with the learners to put them in direct contact with the college principal.
Many of the victims had previously claimed that they had been sent "in circles" by authorities after receiving repeated requests to contact other institutions.
Edudo Ltd sold its "assets and business" to Learning Republic Group Ltd in November 2016 and entered voluntary liquidation in January 2017.
West London College was previously known as Ealing, Hammersmith and West London College.