A trip to Lapland over the Christmas period is considered the ultimate festive holiday, and over 40 local schoolchildren had the chance to go there thanks to students at a North Lincolnshire college – with a bit of imagination, of course. Samantha King reports.
Pupils from St Bernadette's Catholic Primary Voluntary Academy flew first class, prepared food for Rudolph and met Santa himself during a recent winter getaway – all without leaving the walls of North Lindsey college.
Organised by level two travel and tourism students, the imaginary Lapland trip was part of their assessment in events management for providing a service to the children.
Travel and tourism lecturer at the college and organiser of the annual trip, Angela Gillen, said: "We have three rooms going, the grotto, the aeroplane cabin and Santa's workshop. The students decide what they want to do in each of those rooms, how it's going to look and who's going to take which role.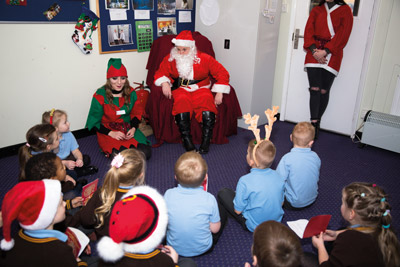 They use leadership skills and build their confidence, all which goes to helping them in the future really, and also they're being assessed at the same time."
The primary school pupils were separated into three groups of 15, with each spending around half an hour in each location. Accompanied by students from the college, they were asked what they wanted for Christmas and entertained through a variety of activities.
The trip began with a simulated flight on the college's real aeroplane cabin, with each pupil issued their own passport as they stepped on board and enjoyed refreshments.
An in-flight visual programme was also played during the journey, giving the young passengers a scenic view of a winter landscape. There was even on-board entertainment, with one student dressing up as Elsa from 'Frozen' and performing a song.
Once at their destination, the children arrived at Santa's grotto, before enjoying a festive story and participating in Christmas crafts in the workshop room.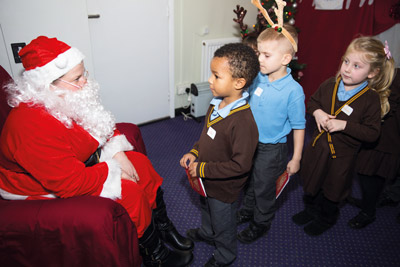 Jade Scott-Deeley, a student at the college, said: "All our hard work paid off with the grotto and preparing all the activities. It was really nice to see all the children today and seeing their excitement for Christmas."
Ms Gillen who played the role of Santa on the day, added: "The event has been going for a couple of years, and so far, we've had level three students running it. We thought this year the level two students would benefit because they don't always get the opportunities that the higher-level students get. They've absolutely smashed it."
The annual event has a reputation amongst local schools, with many requesting the chance to undertake the imaginary trip themselves, and there's now quite the waiting list.
"The kids get lots out of it," said Ms Gillen. "Every year we try and make it bigger and better to the point where we have schools ringing us up asking if we'll put it on for them. There's a bit of a waiting list for schools to do it."
Featured picture: Pupils strap in for the flight to Lapland