The principal of Portland College is celebrating a decade at the helm by taking 10 different challenges over 10 months to raise money for a new activity centre.
Mark Dale has been principal of the specialist college in Nottinghamshire since October 2006, and wanted to mark his decade of service by doing something different.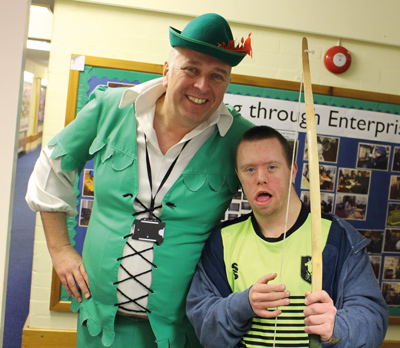 He hopes to raise £1,000 to pay for a new woodland activity centre at the college with an accessible climbing wall, a zipline and walking paths, which will enable disabled students to access Sherwood Forest nearby.
So far, Mr Dale has dressed up as Robin Hood, and recorded a music video while performing the song 'I'm Too Sexy' – a challenge set by students.
Other challenges in the pipeline include losing two stone by September, using a wheelchair for a day and letting learners throw pies at him.
Speaking of his fundraising campaign, dubbed 'Challenge Mark', he said: "When the learners challenged me to a series of 10 challenges over 10 months I had to take it up.  
"Portland has a wonderful woodland campus in historic Sherwood Forest, linked with the legend of Robin Hood. I am really proud to draw attention to our exciting plans to open up our woodland to disabled people."
The principal has set up a Challenge Mark crowdfunding page, and has so far raised £180 of his £1,000 target.