The principal of Bradford College has gone undercover as a member of the on-site security team to find out what goes on behind the scenes at the college. Samantha King reports
David Harwood started his job as principal 18 months ago, and in that time has initiated an undercover boss project, where he takes on a new role within the college each term to see what's working well and what isn't.
So far, Mr Harwood has been a receptionist, a member of the estates cleaning team and, his personal favourite, a student.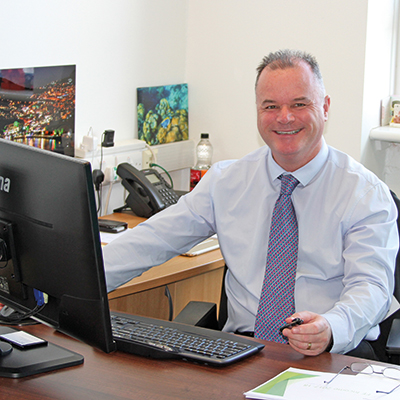 "The estates team had me picking up litter, and as a student I was in an art and design class so they had me doing drawings," he said. "I can't draw for toffee really, and all the students were laughing at my efforts, but again it just demonstrated for me the skill set our young people have."
However, his most recent exploit was as a member of the college's new security team, in an effort to find out how they were settling in, and how they interacted with the campus's 4,000 students.
"I thought I would spend time with this new team to see particularly how they interact with our students. The main thing I want our staff to do – including the security people – is to inspire and motivate our students by engaging with them, and having conversations about how they're doing on their course and what's next for them.
"It was really funny because when you walked past dressed as a security person, staff had to look twice. You could see them thinking, is that who I think it is?"
Staff had to look twice. You could see them thinking, is that who I think it is?
During his day as a security guard, he donned the uniform and a radio and patrolled the corridors, moving smokers away from non-smoking areas and dealing with student disputes.
Following his undercover exploits, the principal ensures he gives a feedback session to the team with which he has been involved.
"The staff really value when you recognise their expertise and skills, and the challenges they face in their jobs. I will share my feedback with the team and say 'thank you for letting me join you in your job, these are some of the things I've discovered'.
"It certainly helps me, because when we're talking about things such as the college's IT systems I can say, well, that doesn't work on the ground because I've done it."
Mr Harwood is already planning to go undercover for a second time as a student, and will oversee two students taking his seat as principal for a day in a job-swap twist.
"Going undercover makes me step out of my comfort zone," he said. "The exec team make decisions all the time that impact on staff and it's really nice to go and experience the jobs that other staff do. Not only that, but you can get to know them and hear their personal stories about why they work in FE.
"It's really interesting to see the challenges of their work and what they do in the college."