The University and College Union (UCU) general secretary, Sally Hunt (pictured), has accused college managers of "ripping their staff off" and failing to challenge the government on its treatment of the sector.
Ms Hunt spoke out at a rally in London this week, on a day of joint strike action between members of the UCU and Unison over the Association of Colleges' (AoC) recommendation for a zero per cent pay rise in 2015/16.
The Shadow Skills Minister Gordon Marsden also addressed the audience at Emmanuel Centre in Westminster, and said that the FE sector would be facing "a really difficult time over the next couple of years".
He added: "If there was ever a better time to be able to say that much overused phase, 'we're all in it together', this should be a time to do that. I regret greatly that your employers are not in it together and I hope that they will get their act together and begin to have some conversations and negotiations with you."
But Ms Hunt challenged the idea that employers needed to "get their act together"' to address the issue of pay.
"We need to know that what is taking place here wasn't by accident," she said.
"It isn't just because of government policy. It is a strategy that the employers, through the AoC, actively adopted."
She added: "I think the employers have got their act together, I think they are all in this boat together and the boat they are in is about ripping their staff off.
"They are using you to hide from their responsibilities to stand up for FE, and today is about us doing the job that our employers should be doing."
The day of strike action marked the first time in 10 years since the UCU and Unison have joined together in protest and picket lines look place at a number of colleges across the country.
The UCU estimated that 198 colleges had been affected by the strike action, while Unison put the number at 170. The AoC was unable to provide information on numbers affected.
Support for the protest was shared through Twitter with the hashtag #FEstrike24feb, which trended in the UK throughout the day. Alongside events in London, a well-attended rally also took place at the Mechanics Institute in Manchester.
Dave Prentis, general secretary of Unison, attended a picket line at City and Islington College in North London and said he felt current treatment of the sector was immoral.
He commented: "It's very unusual that our members in FE take industrial action. It's a final resort.
"When you look at what happened over the last five years, the pay of our members has gone down by something like a fifth in that time and when the employers have had the chance of at least giving a cost of living increase they have said no. For our members this is about putting food on the table."
Marc Whitworth, director of employment policy and services at the Association of Colleges (AoC), responded to the day's event, saying: "Strikes are very disruptive for colleges and more importantly for students. The pay recommendation of 0 per cent made by the Association of Colleges reflects the specific financial challenges faced by our members.
"Colleges are facing increases to pension and national insurance contributions during 2015/16 and this coupled with reductions in funding mean that we have been unable to recommend an unsustainable increase in costs to our college members.
"No further dialogue has been scheduled with our union colleagues regarding this cycle of negotiations."
However, a Unison spokesperson told FE Week that the union's FE committee will meet at the end of next week to gather feedback and discuss next steps.
A UCU spokesperson also confirmed that their FE committee would meet on March 4 to discuss next steps.
Andrew Harden, UCU head of FE, said: "The strong support on the picket lines yesterday shows the depth of anger at this insulting pay freeze after years of real terms cuts to wages. UCU's FE committee will meet again next week to discuss next steps in the dispute; in the meantime we urge the employers to come back to the table with a sensible offer."
Students join striking staff on picket lines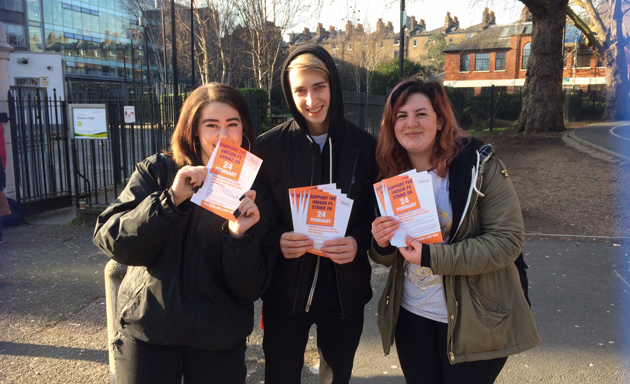 At colleges across the country teaching staff, support staff and even some students joined picket lines in support of the UCU and Unison joint strike action.
At City and Islington College, students Aby Murray and James Crawley (pictured) were handing out flyers alongside other protestors.
Murray, a student of politics, sociology, economics and philosophy, told FE Week: "I think the strike is important because it shows that they won't take no for an answer. This isn't fair on them because they deserve a pay rise so much. They keep our college running, they're the people who are in the library 24/7, helping us study, providing us with what we need to actually get our grades.
"Colleges are such an important option to people who feel they can't study at school or university. Here it is a chance for us to actually be ourselves and get the grades we deserve, that's really important to me."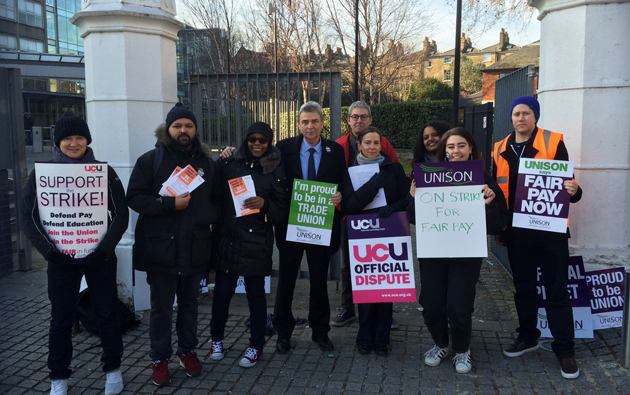 Crawley, who studies graphics, photography and music technology at the college had had a class cancelled due to the strike.
"I think teachers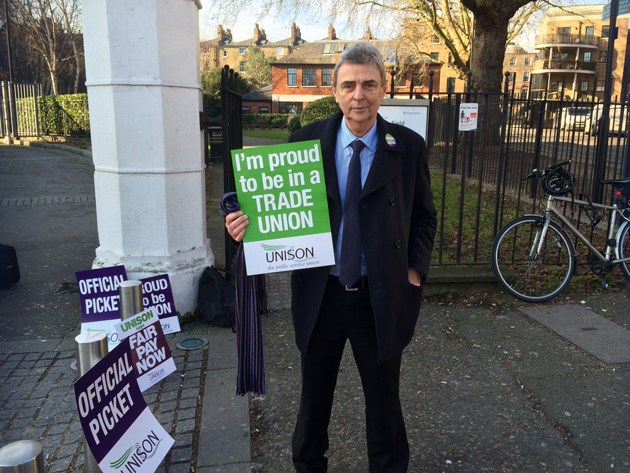 should be paid more because the people they work with are all going to be a part of society.
"My three hours graphics lesson has been cancelled. It's not so annoying for me because I live quite close, but many people have to pay a lot of money to be travel here."
At the rally, one Tower Hamlets College student also spoke out.
She said: "I really support this strike that is going on today. The teachers in Tower Hamlets have changed my life so much and opened doors for me that I didn't have when I was in secondary school. I left and I just went into work.
"Now, going back into college, I'm worried about the cuts … To me as a mature adult student I see my doors are closing and I see my future not as bright as before. I hope the teachers get the pay rise they deserve."
Click on the image for a larger version