The chancellor was urged to show that he does love colleges today after representatives from a campaign group calling for more FE funding delivered him a Valentine's card.
FE unions joined the Association of Colleges in paying a visit to the Treasury to hand-deliver the card which aimed to raise the profile of the Love Our Colleges campaign.
It reads: "Dear Chancellor, show your love for colleges with: increased college funding for students and fair pay for staff #LoveOurColleges."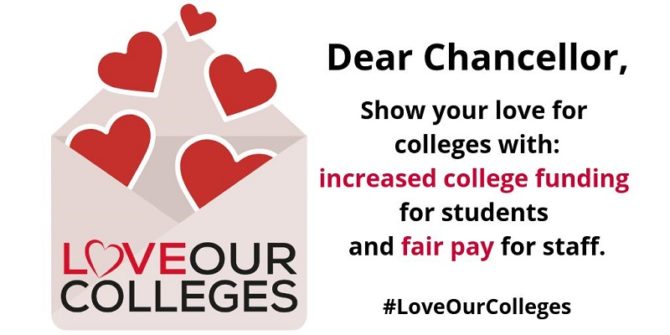 University and College Union head of policy Matt Waddup said: "The government speaks a lot about the importance of skills, but massive cuts to further education funding have left staff and students worse off.
"It's time for the chancellor to show his support for the vital work of colleges by funding them properly and investing in the further education workforce."
The Love Our Colleges campaign is calling for all 16 to 19-year-olds to increase to £4,760 in the upcoming spending review.
Funding for 16 and 17-year-olds has been frozen at £4,000 per student since 2013, while per-student funding for 18-year-olds was cut to £3,300 in 2014.
The Valentine's card is the second time Mr Hammond has been urged to up college funding in a matter of days.
A cross-party letter signed by 164 MPs was handed to the chancellor on Friday demanding an above inflation increase to FE funding in the upcoming spending review.
It was given to Mr Hammond by Conservative MP Richard Graham and Gloucestershire College principal Matthew Burgess.
The Association of Colleges chief executive, David Hughes, said: "There is now very strong cross-party support for the 2.2 million people who study and train in FE colleges each year. It's vital the government helps those tasked with helping to solve the skills gap."
The Love Our Colleges campaign is supported by University College Union, Unison, Unite, GMB, National Education Union, National Union of Students, TUC, the Association of School and College Leaders and the Association of Colleges.