[A complaint was received from Sunaina Mann on 31 May, in terms that our Article suggests that Ms Mann corruptly handed a secret consultancy contract to her own husband.  Ms Mann denies that there was any non-disclosure or that she promoted or oversaw the contract and says that any conflict of interest was properly taken into account.]
UPDATE: Nescot accepts former £360k a year principal was unfairly dismissed
The husband of the highest-paid FE principal in the country has been paid almost £200,000 in a contract that was not declared to college governors for 18 months.
As previously reported in FE Week, Sunaina Mann (pictured below), the principal of North East Surrey College of Technology (Nescot), received a salary of £363,000 in 2015.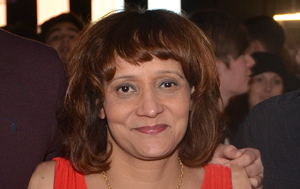 Now it has come to light that her husband, Jaswinder Singh Mann, was also employed as a consultant by Nescot to work on its controversial partnership in Saudi Arabia, the Jeddah Female College.
The arrangement means that the couple gained £775,000 in total from Nescot over the course of two years.
However, even though Mr Mann signed his first contract with the college on September 24, 2014, Nescot's governors were not made aware of his role until a board meeting a year and a half later, on March 18 2016.
The college revealed to FE Week that two further contracts were signed in 2015, on June 8 and August 1, again apparently without the knowledge of the board.
A spokesperson for the college has refused to confirm or deny whether the college failed to adhere to their procurement policy.
According to Nescot's financial statements for the year ending July 31, 2015, payments of £71,000 in 2014 and £106,000 in 2015 were made to Point Nemo Ltd,"a company "under the control of the principal and chief executive's husband" for "consultancy in the role of NCL [Nescot Consortium Limited] Vice Dean MIS and Funding".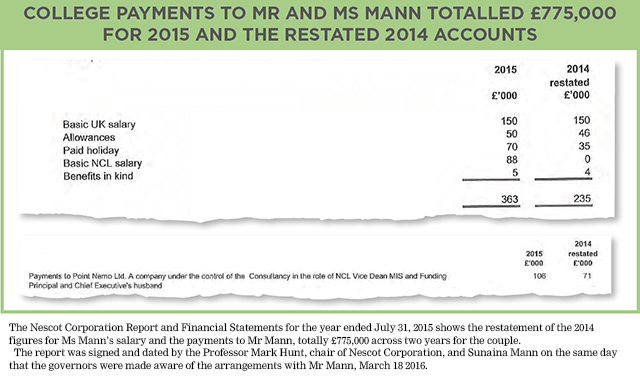 Mr Mann is the only director of Point Nemo, holding 90 per cent of its shares.
But minutes from a board meeting on March 18, at which point the arrangement was made known to governors, show that "disclosure errors" regarding "related party transactions" had been made.
The minutes list recommendations made by external auditors MacIntyre Hudson, including a need for "much better quality management information and on a more timely basis", improved controls to ensure "the accurate capture of related party transactions", and "a comprehensive register of interests" to be updated through the year.
FE We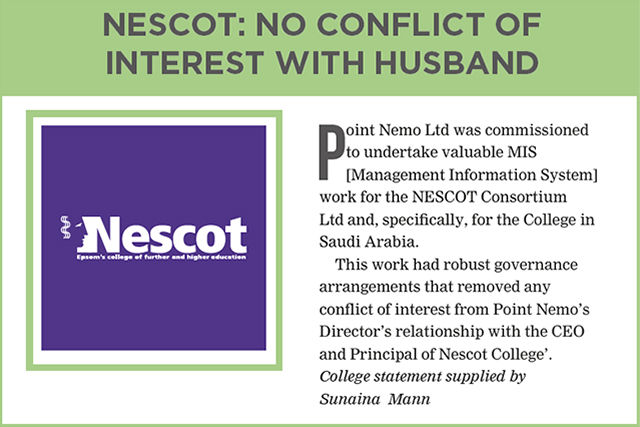 ek reported last week that Ms Mann's 2015 pay packet was originally under-reported to the Skills Funding Agency to the tune of £27,000 plus £5,000-worth of "benefits in kind".
Her reported salary was revised upwards – to £358,000 per year plus benefits – by the SFA earlier in May.
In a statement, Ms Mann said that "robust governance arrangements" had "removed any conflict of interest" from the college's arrangement with her husband.
MacIntyre Hudson said it had "no comment" to make on Nescot's financial arrangements.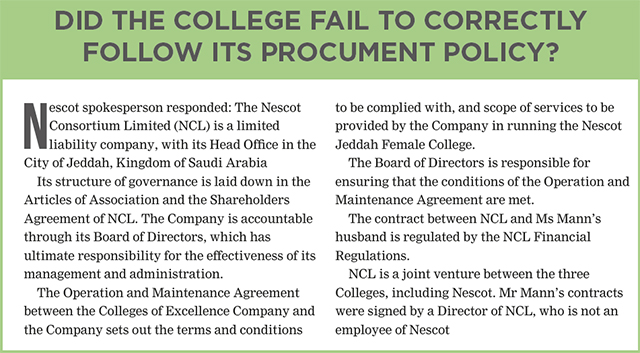 Likewise, internal auditors RSM UK told FE Week: "Internal audit reports are provided to clients on a confidential basis and as such, I am afraid that we are not able to comment."
Attempts to contact Mr Mann were unsuccessful, and there is no information about Point Nemo Ltd available online, beyond four filings which have been made with Companies House.
Following the board meeting, Ms Mann's salary for 2014 was also restated, consequently jumping from the figure of £154,000 claimed in the initial report, to £235,000.
This £85,000 increase was made up of £46,000 in allowances and £35,000 in paid holiday.
Sally Hunt, director general of the University and College Union, said the findings were "a real concern" at a time of "severe cuts to adult education budgets".
It is "more troubling yet", she added, that the details of the arrangement had only come to light following an external audit.
"Too many college principals like Ms Mann have continued to enjoy bumper pay awards and sanction profligate spending on agencies for often questionable added value. It is time that ministers took action," she said.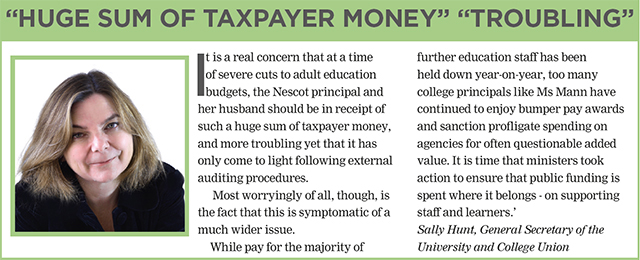 Jonathan Isaby, chief executive of the TaxPayers' Alliance, said: "It is astounding that such a large amount of money was paid out without the knowledge of the governors, given such obvious potential for a serious conflict of interest.
"The errors in the financial statements will just compound taxpayers' concerns and they deserve answers."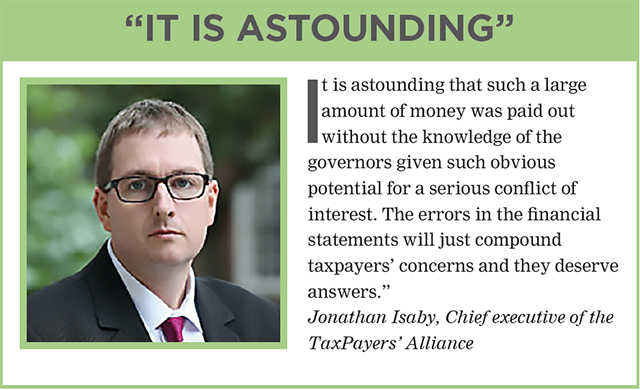 FE Week contacted Professor Mark Hunt, chair of the college's board of governors, to ask what action they had taken on discovering Mr Mann's contract with the college. He provided no comment by the time of going to press.
Peter Stamps, chair of the finance and general purposes committee and a qualified accountant, was also contacted by FE Week, but declined to comment.
————————————————————————————————
Editorial : Serious money – serious questions
Nescot governors were not made aware of the contract to pay almost £200,000 to their principal's husband for 18 months.
You would think that having been contacted by FE Week, the board members would fall over themselves to demonstrate that they had a robust governance response.
But despite written and verbal communication with several governors, including the chairman, they were not forthcoming before we went to press.
I found that disappointing given the seriousness of the issues at stake here.
As I said in an email to the chair, I used to work for a college and attended board meetings, so have a good idea how it all works.
Putting aside the complex nature of the Saudi project, were the college's internal related party transaction and procurement policy rules broken and if so what, if anything, did the board do about it?
The college spokesperson said the college was declining to answer, but hopefully the chair will in due course.
Nick Linford