The death of the band Viola Beach and their manager in a car crash earlier this year shocked the nation. Now, the college they attended has set up a music scholarship in their name, which has just been awarded for the very first time. Samantha King reports.
Viola Beach band members Jack Dakin, Kris Leonard, Tomas Lowe, River Reeves and their manager Craig Tarry lost their lives in a tragic car crash in Sweden in February 2016.
The band members were all former students at Priestley College in Cheshire, which has now launched the Viola Beach Scholarship, aiming to reward musically talented students and enable them to develop their musical ability.
The scholarship will award one student a year the funds to pursue music, whether that's through paying for music lessons or even a slot in a recording studio.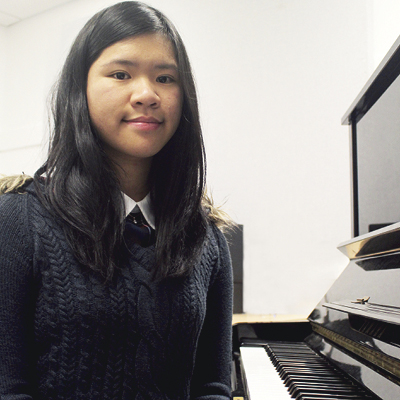 Yi Chen Hock, a first-year student at the college, has become the first ever recipient of the scholarship, receiving £500 towards furthering her passion for music.
The accomplished musician began learning violin at the age of four, and is currently working towards a grade eight qualification in classical piano, as well as playing violin in a local youth orchestra.
With the scholarship money, she hopes to buy herself a new violin, upgrading from a faulty second-hand one her mum bought her.
Yi Chen, who studies electronics, further maths, physics and music at the college, said: "I currently borrow my friend's violin as it's a nicer one than I have myself. My mum bought it second-hand and the chin rest keeps falling off, which I have to keep fixing, so I thought that it would be nice for me to actually get a better violin".
The scholarship is funded through the college's registered charity, the Priestley Education Training Trust. Set up four years ago after the education maintenance allowance was taken away, the Trust provides support for both disadvantaged young people, as well as outstanding students.
Matthew Grant, the principal at the college, said: "Each year we allocate around £6,000 to £10,000 a year to help students.
We thought how we could do something that was a long term gesture in terms of marking the lives of those four young people
"Following the tragic deaths of Viola Beach, we got together – certainly the music and performing arts team that knew many of them – and thought how we could do something that was a long term gesture in terms of marking the lives of those four young people.
"We decided to establish the scholarship for a young person or group of young people that needed some funds to help them fulfil their ambition in music."
Ben Dunne, the father of band member River Reeves, has given both Yi Chen and the Viola Beach scholarship his seal of approval.
"Yi Chen is a remarkable musician and a worthy first recipient of this wonderful scholarship.
"I'm sure the musical talent, potential and achievement of Viola Beach will be mirrored by Yi Chen and recipients of this scholarship for years to come."
Viola Beach were just launching their music career at the time of the accident; they had appeared on emerging music platform BBC Introducing and performed at Reading and Leeds Festivals in 2015.
Since the accident, their songs have achieved chart status, with Coldplay covering one of their tracks as a tribute during their headline set at Glastonbury music festival
this year.