The fourth annual Brathay Apprenticeship Challenge was the closest fought yet and after a nail-biting race to the finish two teams were crowned joint champions.
Apprentices from Dale Power Solutions and Sellafield shared the victory after the three gruelling days of team building and outdoor challenges.
Second place was also split between the team from Plymouth City Council and the joint team from Pera Training and Emfec (self-titled Perfec), while the Nottingham City Homes team took third place. Also in the final were teams from Redrow Homes South West, HSBC and British Airways.
To get there, the teams had to complete a project in their community, as well as raising awareness of apprenticeships.
Once at the final, held at youth charity Brathay's headquarters on Lake Windermere in the Lake District over three days from Monday, they also faced the challenge of a series of team building tasks — from orienteering and coracle boat building to an assembly line puzzle.
The challenge came to a dramatic conclusion with a whaler boat race — a timed five-mile rowing and navigation trial around Lake Windermere.
Adam Sharp, aged 21 and a level three mechanical design apprentice for Sellafield told FE Week he was "really pleased" by the shared victory.
"It's been a culmination of six minutes hard work – everyone's pulled together at the right time and its been testament to us as a team," he said.
"We all came in as strangers and for us to come out as friends and winners is something else."
Dale Power Solutions level three supply chain apprentice Amber Rushworth, 21, said: "It's been absolutely fantastic, it's been hard, it's been challenging, but it's something we'll remember for a lifetime.
"There's a real sense of achievement, we've really worked together a team and we've really pushed ourselves to the limit so we've found new boundaries."
Nick Wilson, deputy director of the National Apprenticeship Service told the 72 apprentices who made it though to the final: "You really are living proof of what apprenticeships are all about, you've have shown how skilled you are, what qualifications mean and what an inspiration you can be as apprentices to other people."
[slideshow_deploy id='37457′]
The scores from the community project and awareness raising element, the assembly line puzzle and the whaler boat race were combined to give the final ranking.
The team from power plant Sellafield smashed the previous record of 11 seconds on the assembly line puzzle, figuring out a solution as a team in just 8.1 seconds.
FE Week joined the teams' mentors to watch the action on board a tug boat which also formed a part of a key task in the race when rowers had to collect a token from their mentors – without touching the boat.
The task led to tense scenes with mentors leaning perilously out over the water to hand over the tokens, but fortunately, with the exception of one token – belonging to the Dale team – taking a dip in the lake, everyone remained dry.
For their community project, the Sellafield team organised a site-wide collection for North Lakes Food Bank — which involved negotiating their way around tight nuclear security but ultimately raised almost £9,000.
Accompanying the team was Sue Hunter, apprentice programme support at Sellafield, which has entered teams into the challenge in the previous two years but never made it through to the finale.
She said: "We're aware of the way the challenge gives apprentices experiences they wouldn't normally get and the company encourages that kind of initiative, motivation and inspiration for its apprentices.
"They've worked very hard for the last six months and I'm very proud of them.
"Their personal skills have increased dramatically — self-confidence, leadership communication, team working and they're all things that they'll bring back to work."
Their co-winners Dale Power Solution also showed they could pull together when it counts, coming first in the whaler boat race final in a time of 54 minutes and 56 seconds.
"The whaler was the highlight, I thought that was fantastic, we really blew ourselves away with the race," said Amber.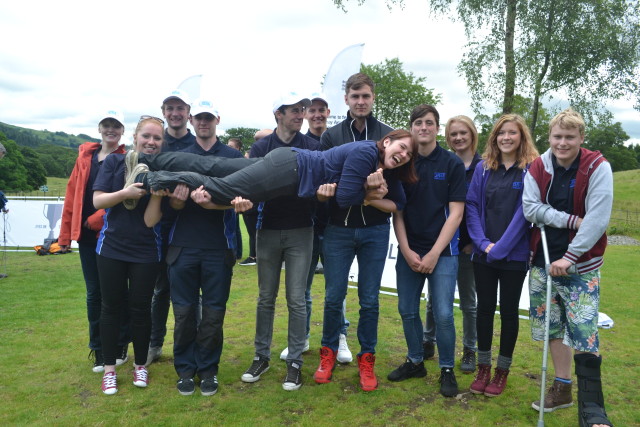 For their community project, the team took on the task of restoring a 150 year old park shelter in Scarborough, which, Dale chief executive Tim Wilkins said, had presented more of a challenge than they'd expected.
But, he said: "It's superb the way the whole team has worked together on all the initiatives over a sustained period of time. Being here the last few days has been great but the work they've put in over the last six months has been tremendous."
The company began its apprenticeship scheme a decade ago, and two years ago heard about the Brathay Challenge.
"We decided it was the right thing to do to enter and to be here two years on as a winner is a dream come true," said Mr Wilkins.
Over the course of the four years of the competition, 280 teams, involving 2,500 apprentices, have carried out 174 charity projects and have promoted apprenticeships to an estimated 2.5m people, through 12,000 pieces of media and social media.
Mr Wilkins added: "Promoting apprenticeships is something a lot more people should be doing in the UK and I'd like to thank the Brathay Organisers – a lot of work goes into this sort of event, please, please, please keep it going and lets hope for many years to come more apprentices can go through this exercise and get the enjoyment that our guys have had."