The importance of education as a means to getting on in life was instilled into Christine Doubleday by her parents who both left school when they were 13.
She grew up on a huge council estate in Wakefield, Yorkshire, in a catholic, working class family with her brothers Martin, now aged 60, Paul, 56, and John, who died in 1999 at the age of 35.
Her father, Jack, worked on the railways as a goods guard and was secretary of the local branch of the National Union of Railwaymen.
"He started going to literacy classes through the union. He got to the point where he could have gone to the trade union college in Oxford, but he didn't go because he wouldn't have left the family," she says.
"However, while my dad was really proud of being working class, he and my mum, Pat, had an old fashioned view held by many people from their background that education gave the kids a chance to get up and out."
Doubleday, 58, recalls how her father was prepared to take drastic action when he feared his children were being distracted from their studies.
We occupied the building where they took their exams. I seem to remember sleeping on the corridor floor for about two nights, before being removed by the university police,
"My dad was always telling us: 'If you don't do your homework, the telly will go back to Radio Rental'," she says.
"As kids, we didn't believe him, but I came home one day when I must have been about 11 and it had gone. It never came back until after I had done my O-levels."
Doubleday went on to get eight O-levels and four A-levels and was offered a place studying medieval history at Leicester University.
But, she says: "I went a bit weird when I was 17. I discovered boys and music and decided I wanted to go to the university of life instead.
"I went to work in a hotel in Switzerland for about six months. When I came back to England, I went to visit a friend at Oxford University and never came back."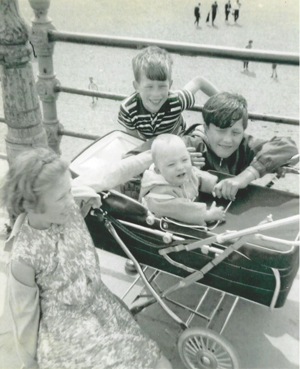 She became involved with student politics while visiting a friend at Pembroke College, Oxford, joining in protests supporting a campaign for a central students' union for the entire university.
"We occupied the building where they took their exams. I seem to remember sleeping on the corridor floor for about two nights, before being removed by the university police," explains Doubleday. "I ended up living in Pembroke College for a whole term in 1973, even though I wasn't a student there.
"It was the first time I had experienced southern middle-class politeness. I thought I would get away with it for as long as I could.
"In Wakefield that would have been about five minutes, but no-one ever questioned why I was there — which was funny because it was an all-male college."
One of the middle-class students she met, Miles Doubleday, became her husband for 23 years, before they divorced in the late 1990s.
They had three children, Tim, 35, Clare, 33, and Katie, 31.
She worked at a bakery, before marrying aged 20 and doing a social studies degree at Oxford Polytechnic, which she completed shortly before having her first baby, aged 23.
She set out on her career in education in the early 1980s, teaching adult literacy in colleges, through local authority-run classes, and with the Workers' Education Association.
She was then thrilled to be one of the first people in Britain to be trained by American feminist icon Anne Dickson to give assertiveness training to women.
She said: "I used to get women turning up with badminton rackets and yoga mats because that's what they told their husbands they were doing. But the idea was to give women the confidence to get on in their careers."
Doubleday secured her first managerial post in 1989, as regional organiser for community education for Cumnor and Kennington, in Oxfordshire.
She says: "It was a case of running things like badminton and sugarcraft classes to pay for more of the things I really wanted to do, like adult literacy and numeracy classes and assertiveness training."
Between 1992 and 1997, Doubleday also travelled regularly to Russia to train trade unionists how to recruit in the post-communist era.
She says: "It wasn't very fashionable to be in a union out there at that time. It was quite funny because I would be trying to teach these older people, who had been part of the communist regime, and their approach was very much 'you must join', which wasn't really how we did things."
It was also during this period that she completed a masters degree which changed her approach to FE.
She says: "I had this notion you shouldn't accredit adult education, following the liberal idea of education for education's sake.
"I did my thesis on the idea that accreditation has no place in adult education, but completely disproved this notion through my research — all the adults I spoke to really liked having a qualification to show for their studies."
Doubleday took this on board when she set up the Oxfordshire Open College Network in 1991. She says: "We would accredit curriculums, for example for special needs and access to HE courses.
"Some of the tutors hated it, but there was me saying: 'You have to have aims. You have to have an outcome'."
Doubleday had a difficult period in the late 1990s. She left FE for a few years, taking a post graduate diploma in careers guidance, having divorced and suffered the heartache of her brother committing suicide. "Being bereaved by suicide when there is no explanation and no clue it is coming leaves not only a massive gap, but also confusion," she says.
"I never did find out and I guess I never will, but have gradually let go and learned to simply grieve."
Doubleday emerged from this dark period by 2001, when she returned to FE as director of research for the Learning and Skills Council (LSC) for Milton Keynes, Oxfordshire and Buckinghamshire.
She became acting director for two years from 2003 and permanent area director for Stoke and Staffordshire LSC in 2006.
She says: "I really loved that job, but after Gordon Brown created two separate departments for our sector, the Department for Business, Innovation and Skills and the Department for Education, it was obvious the power of the local LSC offices had gone, as the very notion of a council for both learning and skills no longer applied.
"I moved briefly to the LSC's national office in 2010, but was looking to move on.
"I kept bumping into Lynne Sedgmore [executive director of the 157 Group] at meetings. She was one of those people who made me think 'that's where it's going to happen' and I was lucky enough to be able to move to the 157 Group in 2011."
Doubleday, who still lives in Oxford, started-off as shared services manager and became deputy executive director in 2012.
She says: "I love it. Education is so important and FE is the cog in the middle that turns everything else.
"To have a job that helps turn that cog a little bit just makes me think 'what a bloody privilege'."
—————————————————————————————————————————————————————–
It's a personal thing
What's your favourite book:
The Bone People, by Keri Hulme
What's your pet hate:
Meanness
What did you want to be when you grew up?
The person on the rail platform who waves the flag and blows the whistle to say the train can go
What do you do to switch off from work?
I have been learning to be a silversmith through FE courses for the last three years and can make my own jewellery. I also sing with my local choral society
If you could invite anyone, living or dead, to a dinner party, who would it be?
Eddie Izzard, [scientist] Brian Cox, pianist Helen Grimaud and my brother, Paul