A college chaplain has initiated a monthly animal café as a way of making connections with students and staff, as well as helping them to relieve stress, reports Samantha King
Halesowen College's multi-faith chaplain, Hazel Charlton, wanted to find a way to make herself more accessible, so she came up with the idea of hosting a monthly animal café.
Snakes, rabbits, guinea pigs, lizards and dogs are just some of the guests who now frequent the campus coffee shop at the West Midlands college, and students can enjoy the animals' company while also having a platform to talk about what's going on in their lives both in and out of college.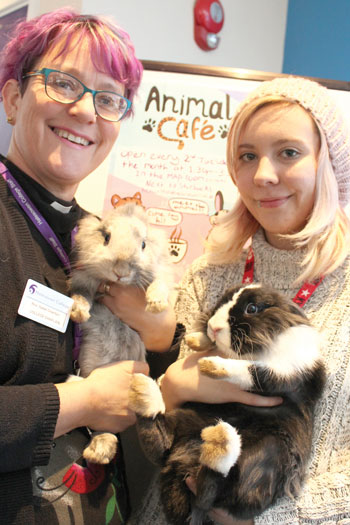 "The idea is that animals are a good stress release, and it also makes me more accessible," said Rev Charlton.
"It's a chance for people to come in, say hello to the animals and de-stress a bit. I can approach them and say 'Are you ok?', 'How's the course going?' or 'Anything you're worried about?'. The idea isn't to offload at that particular time, but it's just to make contact and inform students and staff there is a chaplain around for them."
Beginning in January this year, the sessions take place on the second Tuesday of every month and have already received glowing feedback.
"Somebody said they had been waiting for it all day, and another said they'd been waiting for it all their life," Rev Charlton said. "I thought that was quite interesting really, that they're coming, seeing the animals and just completely relaxing and being themselves.
"They're just in the moment, and sharing that moment with an animal, which is lovely. The animals are not interested in exam results. It's a delight to see people's reactions."
While the majority of animals involved reside in the college's animal care unit, a number of lecturers have been bringing along their pet dogs, who have proven to be among the most popular attendees.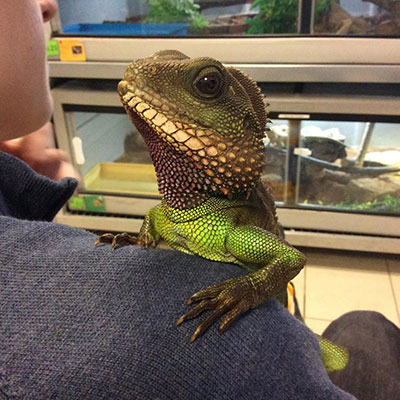 Mark Dugmore, the manager of the animal care unit and a lecturer at the college, said "Everyone loves a dog.
"With the snakes we weren't sure how the wider student population would take them, but there was a mixture of fear and fascination, and a lot of curious people coming in not sure if they wanted to meet them and handle them, but they warmed up to them and people got over long-standing fears as well."
In order to keep the animals safe, animal care technicians are on hand at the café, looking out for any animal that may be beginning to show signs of distress.
"If we feel like they've had enough we take them out straight away," added Mr Dugmore. "It's no good for the users of the café if the animals are freaking out. They've got their own private spaces to go into as well, whether it's a carrier or a tray from an enclosure so they could hop around in there and approach people only if they wanted to. We take their welfare very seriously."
"We don't want to put the students' stress onto the animals. That would defeat the object really," joked Rev Charlton.